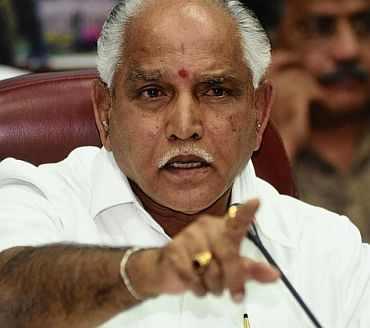 Ruling out any conciliatory talks with the party central leadership, sulking Bhartiya Janata Party strongman in Karnataka B S Yeddyurappa on Wednesday said he was contemplating to float his own party.
"I am not going to join any national outfit. I may build a new party. I will announce my decision after touring parts of the state, probably in December," he told the media in Chikmagalur.
His comments came in the backdrop of speculations that he is exploring the option of joining parties like the Janata Party, Samajwadi Party or Janata Dal-United.
Yeddyurappa, who has been cut up with the BJP central leadership over being sidelined, ruled out any conciliatory talks, remarking, "It is a closed chapter for me to hold any discussion with the BJP high command."
The Lingayat strongman, who led BJP to its first ever government in the south in the last assembly elections, said he will not ask his supporters, including MLAs in BJP to join his party, and added, "It is left to them to decide."
Yeddyurappa did not meet BJP troubleshooter Arun Jaitley and General Secretary Dharmendra Pradhan who visited the city on Tuesday to defuse the festering crisis in the state unit since his removal as chief minister in last July.
Yeddyurappa said he was firm that he would not accept any position offered by the party.