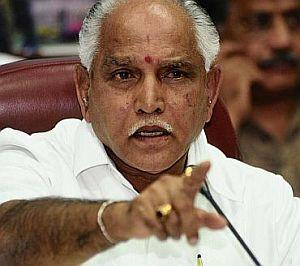 Former Karnataka Chief Minister B S Yeddyurappa on Friday came down heavily on the Bharatiya Janata Party leadership while lavishing praise on the Congress.

Addressing a press conference at Bengaluru, Yeddyurappa said that right from Jawaharlal Nehru to Sonia Gandhi (the current Congress chief) none of the senior leaders in the Congress were ever let down.

He hinted that the BJP could take a leaf out of the Congress in this regard.

Yeddyurappa added that he was no longer interested in the post of party president.

"When Sadananda Gowda was made the chief minister, I was assured by (party chief) Nitin Gadkari that I would be made the party president in Karnataka. However, that promise was not kept," he said.

He termed the candidature of Prahlad Joshi for state party president in Karnataka as incorrect, stating, "Why is Ananth Kumar backing his candidature? Let Kumar take over the post, win the elections and become the chief minister of the state."

Yeddyurappa, who enrolled into the Art of Living camp after skipping the BJP's national executive, said that it was the first time in 40 years that he had done so.

"Let the party ask me and I shall explain my reasons," he added.