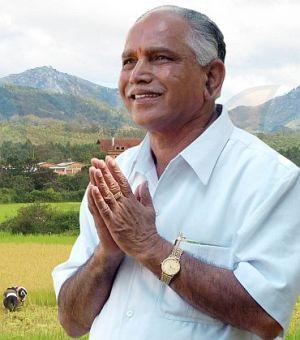 Former Karnataka Chief Minister B S Yeddyurappa officially rejoined the Bharatiya Janata Party on Thursday evening. After a marathon meeting with members of the BJP at the Taj West End hotel Bangalore, the Lingayat strongman officially merged his Karnataka Janatha Party with the BJP.
He was personally invited for Thursday's meeting by state BJP chief Prahlad Joshi, former chief minister Jagadish Shettar and former deputy chief minister K S Eshwarappa.
Yeddyurappa said that he will work for the party and ensure that they come out victorious in the forthcoming Lok Sabha elections.
After months of speculation the drama surrounding the return of Yeddyurappa finally came to an end.
Although Yeddyurappa has publically said that his return is "unconditional" there are few demands which the BJP has agreed to meet. An honourable return of all KJP members who had left the BJP with him, a member of legislative council post for Shobha Karandlage and the post of election campaign chief for Yeddyurappa are some of the demands which the BJP has agreed to meet.
They would be implemented over a period of one month, sources said.
Image: Former Karnataka Chief Minister B S Yeddyurappa