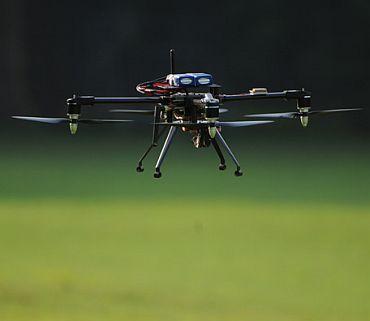 When Gujarat chief minister and Bharatiya Janata Party's prime ministerial candidate Narendra Modi takes the stage at Bangalore on November 17, he will be accorded security no less than that for a VVIP.
Bangalore Police will deploy two unmanned drones at the event, which is expected to be attended by 3 lakh people.

The police has literally shifted their office to the Palace Grounds in Bangalore following a directive by Karnataka Chief Minister Siddaramaiah who wants no let up in the security.
The decision to deploy the UAV was taken as the administration felt that it was impossible to monitor everyone personally or through closed circuit camera.

Fitted with high-resolution cameras, the drones will transmit real time pictures to the control room. These pictures would then be relayed to the police officers on the field.

The UAVs have been hired from a private agency especially for Modi's rally.
Additionally, there would be 5000 police personnel on guard at the venue.

The state BJP, on the other hand, is also making its own arrangements.

Karnataka BJP chief Prahlad Joshi says that they have already sold 3 lakh tickets for Rs 10 each.

"We have told all our workers to cooperate with the police in ensuring that security arrangements are not hampered," Joshi pointed out.