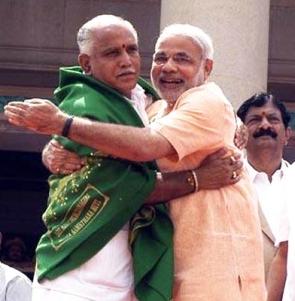 'Seventy per cent of the country wants Modi as the PM,' says B S Yeddyurappa, who said he is undecided on the date to rejoin the BJP.
Former Karnataka chief minister B S Yeddyurappa, who has decided to rejoin the Bharatiya Janata Party, said on Tuesday that his return was unconditional for the larger interest of the country and for the party's Prime Ministerial nominee Narendra Modi.
Yeddyurappa, who officially announced his return on Monday, told reporters in Bangalore that he held discussions with party chief Rajnath Singh and had decide to merge his Karnataka Janatha Party with the BJP.
"I'm back to support the candidature of Narendra Modi for the prime minister's post. Seventy per cent of the country wants Modi as the PM. I felt that I needed to respect the sentiments of the nation and come back and make the BJP stronger."
"I have not put forth any condition for my return and will work as a BJP worker and do my best to bring a BJP government at the Centre," he said.
The former CM said that he has not yet decided the date on which he will rejoin the party. "The BJP will decide on the date and I shall abide by the same. I want to focus on the development of the party," he said.
Yeddyurappa, a strongman from the majority Lingayat community, was made to quit as chief minister in July 2011 over findings of Lokayukta indicting him on illegal mining issue.

Sidelined by the BJP central leadership subsequently, Yeddyurappa had formed the KJP in December last year, ending his 40-year-long association with the BJP.

Image: Former Karnataka chief minister B S Yeddyurappa hugs Narendra Modi before he split from the party