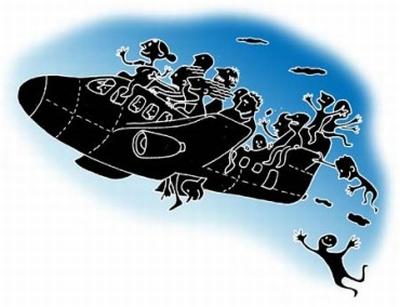 Thirty Members of the Karnataka legislative assembly are headed to South America to 'study' the waterfalls in the Amazon forests.
And this 'study trip' is only going to cost the taxpayers Rs 2.25 crore!
This is not the first time the state's MLAs are headed on an absolutely useless study trip.
A few corporators went off on a junket last year purportedly to gain knowledge about bio-methanisation plants and learn more about alternative ways to dispose off garbage.
The corporators apparently found out, after coming back from their all-expenses paid trip, that the alternative system could not be implemented in Bangalore.
Unfortunately, the hankering for free and meaningless foreign trips cuts across party lines.
Thanks to the provisions of the Karnataka legislature, every lawmaker is entitled to at least two foreign junkets and two domestic trips. The 'study trips' are meant to provide the MLAs a global perspective and ideas to improve the existing infrastructure.
Though the lawmakers dutifully submit a report of the various points they pick up during their trip, such ideas are neither taken seriously nor implemented.
"The standard answer is that our system here is not friendly to such a change. The roads, the garbage disposal system and the infrastructure have not improved at all," said an official who has been part of several such programmes.
Though rules which allow such trips have been around for years, an incident in 2003 revealed how seriously these MLAs took their foreign junkets.
That year, one Krishna Bhat filed a legal plea against a junket approved by then Chief Minister S M Krishna for a whopping 290 legislators, arguing that it was merely a waste of government funds. The high court initially stayed the junket but finally gave its go-ahead.
After Bhat's petition was dismissed, the state legislature took serious objection and urged the speaker to summon Bhat before the privileges committee, claiming that his actions amounted to a 'breach of privilege'.
Last year witnessed a similar incident when a junket to South America for 100 legislators was sanctioned by then Chief Minister Jagadish Shettar.
The decision attracted large-scale criticism as the state was reeling under a severe drought at that time. Under fire over his extravagance, the CM advised the legislators to cancel the trip.
But the shameless MLAs went ahead with the junket anyway, making the cash-strapped state exchequer poorer by Rs 8 crore.
And while speaking about the luxurious foreign trip at a time hundreds of farmers in the state were facing a life-and-death situation, Congress MLA B C Patil said, "Are we committing dacoity or theft? It is our privilege. Why should we not go on a junket?"
This year, Congress MLA N A Harish has defended the junket, claiming such trips provide a good opportunity for the legislators to "get to know each other".
"I don't think it is wrong. We do not get to travel by business class," is how he defends his government's decision to undertake a pointless trip at the expense of its hapless taxpayers.