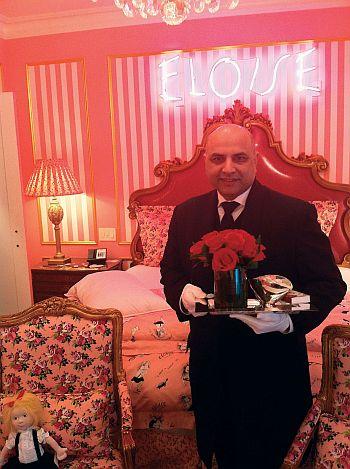 Whether Premendra Chouhan was anywhere near the fabled Eloise Suite at the Plaza Hotel in New York over three months ago when Charlie Sheen trashed it is anybody's guess.

For Chouhan, a butler at the hotel whose slogan is 'Capturing memories since 1907', discretion is of utmost importance.

"Privacy is at the helm considering the amount of celebrities and world leaders we serve," Chouhan says. "We are like a firewall between the guest and the outsiders: Not seen, not heard, but definitely present."

But he does share stories of handling the guests with patience and urgency, without mentioning names. Four years ago, an out of state family wanted dozens of doughnuts from the Doughnut Plant, to take to their home state.



"I got into a cab, went downtown and was back in about 90 minutes to do my other chores," Chouhan says. "When I saw the smiles on the face of the family members, I forgot how tough it was to wade through the traffic."

Many people think of butlers in novels by P G Wodehouse and Agatha Christie as if they belonged to another era. But butlers continue to play an important role in prestigious hotels, says Chouhan, who is also in charge of wine pairing at the Amma restaurant.

He works there two days a week, and he gives many hours to China Chowk, a new restaurant he co-owns in Jersey City.

The Plaza is not what it was three decades ago. A part of the landmark hotel was turned into condos but the new Plaza Hotel overlooking Central Park continues to be one of the most in-demand hotels in America.

A butler is like a concierge, Chouhan says, except that he works within the hotel looking after guests in the high-end rooms.

"We make things happen," he says, "like getting dinner reservation on Valentine's Day for a newly-wed couple into the most sought-after restaurant that's officially over booked. Some days, it's just a dry cleaned shirt that doesn't make it back in time from the laundry plant in Queens and you have to jump in a cab to retrieve it -- you are better off running to the plant than getting stuck in traffic on the bridge," he adds, laughing, "or just keeping a tab of their favourite drink and a preferred pillow and wishing them goodnight while serving a night cap."

Chouhan started his career in the hotel industry at age 18 over two decades ago, training at The Oberoi, Bombay, in the food and beverage department.

"I was introduced to butlering at the same hotel, known for its impeccable and exquisite service worldwide," he recalls. He obtained his BA from Bundelkhand University by distance education in 1989. He worked as a bartender aboard the Carnival Cruise Lines out of Miami for 13 years before coming to New York with his Romania-born wife.

He joined his friend Sati Sharma from the Carnival days, in his flagship restaurant Bricklane Curry House.

I first met Chouhan at Amma, a highly sophisticated New York restaurant, over six years ago. It was a cold and damp night, and though Chouhan is the sommelier there, he took our orders. He must have sensed how hungry my wife and I were. But I was thirsting for something immediately.

"I need a hot cup of coffee before anything else," I said, shivering slightly.

For the next 10 minutes, there was no coffee. Every time I looked at Chouhan, he comforted me, saying there was a little problem in the kitchen. The coffee arrived a little after we had taken a few bites of the appetizers.

I got to know later the chef did not want to send out the coffee because he thought it would not let me appreciate the food, that my tongue would be coated by caffeine and my nose would be full of coffee aroma. It was an insult to his food if the guest thought coffee was more important, the chef argued. He wanted to send the coffee only at the end. But Chouhan succeeded in convincing him to send out the steaming beverage at least after the appetizers were served.

"Being tactful is very important in any job," he says, "especially in the hospitality industry."

While working full-time at Amma, a friend had suggested that Chouhan could use his skills as a butler. He said the new Plaza Hotel had an opening.

The butlers were trained by Steven Ferry who runs the International Institute of Modern Butlers.

"We learned about maintaining the right attitude, of posture and diligence," he Chouhan recalls. "Everything I learned there I can put it to good use in my daily life as well."