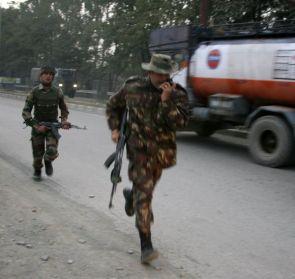 A top terrorist commander of Lashkar-e-Tayiba outfit was killed in a fierce gunfight in north Kashmir frontier Kupwara district on Sunday morning.
"Acting on specific information, the local police along with Rashtriya Rifles launched a cordon and search operation in village Sudal area of Magam in Handwara," a police spokesman said.
"The terrorists fired upon the joint operation party, triggering an encounter at the end of which one of them was killed. The he has been identified as Abu Ukasha Afghani, divisional commander of the outfit," the spokesman said.
He said searches were still continuing in the area.