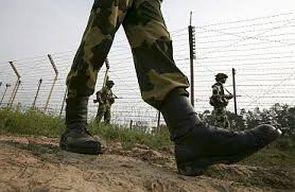 An army major was killed in an accident during a cordon and search operation in south Kashmir's Anantnag district on Monday.
A defence spokesman in a statement on Monday evening said, "On specific intelligence, a cordon and search operation was launched by a Rashtriya Rifles unit in general area Panchalthan. During the operation, Major Rahul Singh sustained fatal head injury due to a 10-15 meter fall caused by extreme slippery terrain conditions compounded by inclement weather."
"Major Rahul Singh braving the extreme inclement weather led his troops as part of the operation. On reaching Panchalthan, at approximately 1100 hrs today, the officer due to extreme slippery ground conditions, which was caused due to almost 48 hours of continuous rains, slipped and lost his balance. He fell 10-15 meters down in a ridge which resulted in head injury leading to the unfortunate death of the officer," the statement said.
The officer had nine years of service and is survived by his wife and a two-year-old daughter.
Meanwhile, one militant was killed and two cops wounded in an ongoing encounter in north Kashmir Kupwara district late Monday evening.
A senior police officer said army and police jointly surrounded Zunreshi village on specific information on presence of a group of militants there.
"The encounter is on. So far one militant has been killed while an assistant sub-inspector and a cop have been wounded. They were evacuated to hospital for treatment."
Image used for representation purpose only