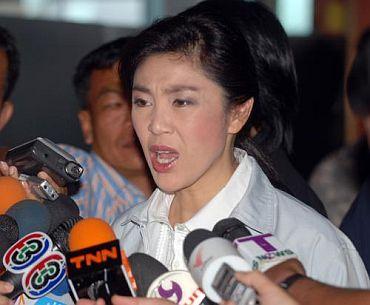 A court in Thailand dismissed Prime Minister Yingluck Shinawatra from office on Wednesday for abuse of power, plunging the crisis-hit country into a fresh political turmoil.
The Constitutional Court ruled that Shinawatra had acted illegally in the transfer of her national security head Thawil Pliensri . It said the transfer was done in only four days and there were discrepancy in dates of documents related to the transfer hence the process was irregular. In the ruling, the court said Shinawatra took part in the approval of the transfer.
Shinawatra, 46, has argued that she assigned her deputy to take care of the issue so she did not take part in it. The court ruled that the prime ministerial status of Shinawatra had not ended when she dissolved the House, dismissing her argument that her premiership status has ended so court had no authority to deliberate on it.
The court insisted that Shinawatra still had the premier's status because she and her Cabinet functioned as a caretaker government hence it could deliberate the case.
Six months of political street protests have so far failed to force Shinawatra from office, with anti-government People's Democratic Reform Committee demanding her resignation to pave the way for an appointed government that would institute reforms.
The anti-government protesters accuse Shinawatra of acting as a proxy for her fugitive brother, former premier Thaksin, who was ousted in a coup in 2006. About 25 people have been killed and hundreds others wounded in political violence in six months of protests.
Adding to the premier's troubles, the anti-graft body National Anti-Corruption Commission finished reviewing facts and evidences in the controversial rice-pledging case against 46-year-old Yingluck and will make a decision on her indictment on Thursday, the Nation quoted sources as saying.