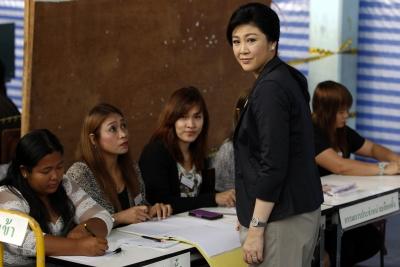 Thailand voted on Sunday under heavy security in violence-plagued snap elections amid boycott calls from the opposition, which forced cancellation of polls in 45 constituencies across the politically polarised country.
Embattled Prime Minister Yingluck Shinawatra was among the early voters, casting her ballot in front of the media at a polling station at the KlongLamchiakSchool near her house here. TV channels said protesters were not present there.
There were no reports of major violence during the polls that ended this afternoon and was relatively peaceful. The counting began immediately after the voting ended. After the counting at each station is completed, the results would be sent to the Election Commission and the outcome will not be announced until after the EC has re-organised elections for advance voting and for blocked polling stations.
Officials said anti-government protesters disrupted the voting at 127 out of 375 constituencies nationwide. The polling was cancelled in most areas of the southern region and in many constituencies in Bangkok.
The EC cancelled the poll in 9 of 14 provinces in the South, a stronghold of opposition Democrat Party. The provinces of Songkhla, Trang, Phatthalung, Phuket, Surat Thani, Ranong, Krabi, Chumphon and Phangnga had no voting at all.
All polling stations functioned in the northern and northeastern regions -- strongholds of the ruling Pheau Thai party of Yingluck -- and 122 out of 127 polling stations opened in the central and eastern provinces, officials said.
In Bangkok, a rally by protesters forced closure of most of the polling stations in Ratchathewi, Din Daeng and Lak Si -- the scene of violent clashes between pro-and anti-government protesters on Saturday which left at least seven people injured.
Two journalists -- a Thai reporter and an American photojournalist -- were among the injured. More than 93,000 polling stations were set up across the country and around 120,000 police personnel deployed. The army deployed 5,000 soldiers in the capital to prevent violence.
Over 47 million voters were eligible to cast their vote on Sunday. The EC will set up a new election date for the areas unable to open today. It could be one week after the new advance voting day scheduled for February 23.
India had advised its citizens to take precautions for their safety, warning that "higher levels of protests are likely, which could lead to violent incidents/disruptions".
Protesters have been holding rallies across Bangkok and have blocked major intersections for the past two months calling for Yingluck's government to quit, an unelected people's council to be formed and the polls to be scrapped.
Image: Thai Prime Minister Yingluck Shinawatra arrives to at a polling station to cast her vote in Bangkok.
Photograph: Chaiwat Subprasom/Reuters