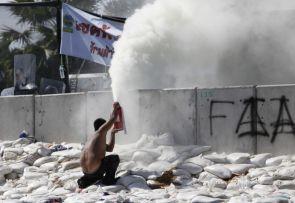 Amid mounting anti-government protests, the Indian Embassy in Thailand has advised Indian resident nationals and tourists to take precautions for their safety ahead of the elections on February 2.
In a notice posted on its website, the embassy warned that "higher levels of protests are likely, which could lead to violent incidents/disruptions".
The notice advised Indian nationals resident in Bangkok and travelling to Thailand to take precautions for their personal safety.
It advised people to avoid areas of protests, demonstrations, political gatherings and marches and polling stations.
"They are advised to regularly monitor the situation through the local media, hotels, tour operators etc," the notice said.
"Travellers coming from or going to the airport may factor in at least one additional hour for travel to/from (Bangkok) in view of potential traffic jams."
Opposition parties have organised demonstrations against the government of embattled Prime Minister Yingluck Shinawatra in parts of Bangkok since November last year. Protesters have blocked major intersections in popular tourist areas.
The Thai government recently declared an emergency in all districts of Bangkok and neighbouring Nonthaburi and Samut Prakan, which includes Suvarnabhumi International Airport.
Yingluck has called snap polls on February 2 to end the political unrest but the protestors have continued their rallies. Protest leaders have asked people to boycott the election.