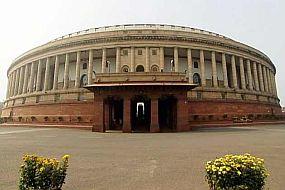 As the extended Winter Session of Parliament entered its third and last week on Monday, the Telangana issue continued to disrupt Rajya Sabha leading to its adjournment for the day.
Telugu Desam Party and Congress members vociferously raised the issue of Telangana, while the All India Anna Dravida Munnetra Kazhagam members too kept raising the issue of Tamil fishermen leading to noisy scenes.
Soon after the House met for the day, Finance Minister P Chidambaram laid a copy of the Interim Budget 2014-15 amid uproar caused by members over Telangana and Tamil fishermen issues.
Carrying posters, members of TDP and AIADMK along with a lone Congress member trooped into the Well and raised slogans over the issues of Telangana and plight of Tamil fishermen as papers were laid on the table of the House.

Amid continued uproar, Home Minister Sushilkumar Shinde made a suo motu statement on imposition of President's rule in Delhi after acceptance of Arvind Kejriwal's resignation as Chief Minister by the President and keeping the assembly in suspended animation.
Chairman Hamid Ansari informed the House about the time allotted for Interim Budget, Interim Rail Budget and other issues including the Andhra Pradesh Reorganisation Bill during the week as decided in the meeting of Business Advisory Committee of the House.
Members continued to raise slogans and created pandemonium in the Well leading adjournment of the House first till 2 pm and then for the day.
"The behaviour of some honourable members is dishonourable," Ansari said while adjourning the House.

When the House met at 2 pm, similar scenes were witnessed as Law Minister Kapil Sibal introduced the Delhi High Court (Amendment) Bill, 2014 amid uproar.
Deputy Chairman P J Kurien, who was in the Chair, called for introduction of the Street Vendors (Protection of Livelihood and Regulation of Street Vending) Bill, 2013 and sought cooperation of the agitating members.
Minister Girija Vyas was, however, not present to introduce the bill.
As noisy scenes prevailed, Kurien adjourned the House till Tuesday