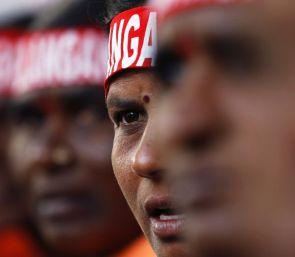 A series of hectic meetings are being held in New Delhi on Sunday ahead of Monday's Parliament session which is scheduled to take up the Telangana bill.
Telangana MP's in Delhi said the bill will be placed for discussion after the vote on account.
The BJP, which could make or break the bill, will take a final call on the issue on Sunday. BJP leaders met at the residence of senior party leader L K Advani to discuss the issue.
The BJP's decision, according to sources, is completely dependant on Telugu Desam Party president Chandrababu Naidu. It is almost certain that he will ally with them and the BJP too needs his support in Andhra Pradesh.
But Naidu has said his support will depend on the BJP rejecting the T-bill.
The BJP was open to YSR Congress leader Jaganmohan Reddy's support as well, but Naidu was chosen as he is more familiar to the BJP.
However, it was Jagan who held meetings all day long on the issue. Assuring the third front of his support if they defeat the bill, he met with both Prakash Karat, general secretary of the Communist Party of India, and JDU leader and Bihar Chief Minister Nitish Kumar and is said to have got a positive response on the issue.
Ministers from Seemaandhra, who are part of the Union government (some of them were suspended following Thursday's ruckus in Parliament) will hold the key to the bill on Monday.
They are under immense pressure to disrupt proceedings and stall the bill. However, these ministers have taken a neutral stance all these days and are expected to maintain the same.
Ambatti Rambabu, spokesperson for the YSR Congress Party told rediff.com that it was Chandrababu Naidu who is playing truant on the issue. It is his letter supporting the Telangana issue written few years back that is causing the problem. "He should withdraw that letter immediately," said Rambabu.
"Kiran Kumar Reddy, CM of Andhra Pradesh and Naidu are the culprits behind the bifurcation. I wish they could have resisted the Sonia magic like the way Jagan did," added Rambabu.