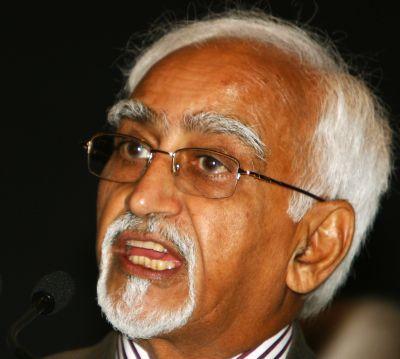 A metal detector was on Monday installed in front of Rajya Sabha Chairman Hamid Ansari's office in Parliament after he wondered why he is exempt from usual checks that all others are subjected to.
The chairman made the remark as he walked into his office Monday morning.
Taking cue, the secretary general directed the security wing to install the door frame metal detector at gate number 11 at Parliament House building, through which the chairman and deputy chairman enter Parliament.
The development took place hours before the Committee on Security in Parliament complex was to discuss measures in the wake of the pepper spray attack by a Congress MP inside Lok Sabha on Thursday.
Hell broke loose in the Lower House on Thursday with members feeling suffocated and seen coughing after expelled Congress MP L Rajagopal resorted to spraying of pepper to prevent introduction of Telangana bill.
The spray, usually used by women to fend off eve-teasers, was used to lethal effect in the Well of the House as Home Minister Sushilkumar Shinde introduced the Bill amid vociferous protests by members from Seema-Andhra.
Image: Vice President Hamid Ansari