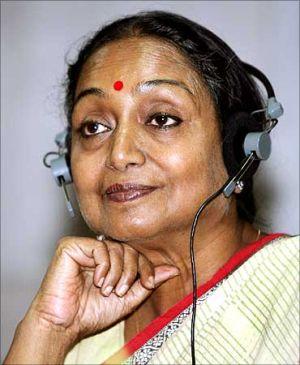 The issue of resignation by Congress MPs from Seemandhra continues to hang fire. Their meeting with Lok Sabha Speaker Meira Kumar, which was scheduled for Tuesday, has been delayed further.
The MPs have been informed by Speaker's office that she will now meet them on September 28 as she is away on a visit to Patna.
Seven MPs from the two regions were expected to press her for acceptance of their pending resignations in protest against proposed bifurcation of Andhra Pradesh.
Sources close to the MPs said that they smell a rat behind the postponement of their meeting by the Speaker twice over the last one week.
MPs Y Venkatrami Reddy, SPY Reddy, Sai Pratap, L Rajagopal, V Arun Kumar, Rayapati Sambasiva Rao and Magunta Subbirami Reddy were to meet the Speaker on Tuesday.
Meanwhile, in the coining game of one-upmanship YSR Congress party MP Mekapati Rajmohan Reddy once again submitted his resignation at the office of the Speaker.
Rajmohan Reddy, who wanted to submit the resignation to the Speaker in person, handed over his letter to the chief secretary in Speaker's office.
He said he had taken an appointment to meet the Speaker but could not do so as the Speaker was out of the capital.
Meanwhile, Seemandhra MPs of Congress party, who had planned to resign today, had a meeting with the Chief Minister N Kiran Kumar Reddy and state Congress president Botsa Satyanarayana in New Delhi.
Sources said that the issue of resignation of MPs was discussed in the meeting.
The chief minister and other senior leaders of the party were opposed to the idea of MPs resigning at this juncture.
Image: Lok Sabha Speaker Meira Kumar has delayed the meeting as Seemandhra MPs smell a rat