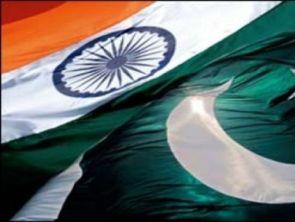 In the absence of a conducive environment, India should not show any "hurry" to hold talks with Pakistan when Prime Minister Manmohan Singh visits New York later this month, BJP president Rajnath Singh said.
He also said the government was not responding to repeated ceasefire violations by Pakistan in the manner it should and not building enough international pressure against it to force it to desist from such activities.
"This month, the prime minister is going to New York. There are reports that he could meet his Pakistani counterpart there. I want to ask the PM that when there is no conducive environment, why should there be any hurry for talks?
He said the prime minister should clarify to the people what message the government intends to give to Pakistan if the talks are held.
"What message they (govt) want to give, the country needs a clarification from the prime minister. Because, when Mumbai terror attack happened, he had said at that time that no talks will be held with Pakistan till it acts against those involved in terror activities," the BJP chief said while addressing a press conference.
Singh arrived in Chandigarh last evening on a two-day visit and held meetings with party's core groups of northern states -- Punjab, Haryana, Jammu and Kashmir, Himachal Pradesh and Chandigarh, in view of the upcoming Lok Sabha polls.
He said the government was not responding to repeated ceasefire violations by Pakistan in the manner it should.
"I am not saying that war is the only option...why the government is not exercising its option to build diplomatic and international pressure? There are reports that there is pressure by some third force, which is why the government does not want to act. The prime minister should give some clarification in this regard," he demanded.
He said internal and external security crises were increasing.
"Our image is that of a soft state...be it terrorism, be it recent incidents involving Pakistan and China on our borders, the general impression is that the government has not responded in the manner it ought to have," Singh said.
"We don't have a concrete policy to deal with terrorism... Pakistan has more than 100 times done ceasefire violations. After victory in the Kargil war (during NDA rule), Pakistan never indulged in firing incidents on our borders, which is being repeated now.
"The cold-blooded killings of our jawans on LoC by Pakistan is a recent example, but you must have seen the way government should have responded, it has not chosen to do so," he claimed.
The BJP leader said there are reports that the government was trying to dilute the nuclear liability clause in deals with American nuclear firms for buying reactors.
"You must have recently read, that US nuclear reactor companies are being invited to set up nuclear reactors. The government is trying to dilute the nuclear liability clause so that the US companies when they come here, will not even need to seek permission of the Atomic Energy Commission.
"We keep telling the government to apprise our countrymen about all this, but they don't feel the need to do so," he said.
Earlier, he lashed out at the UPA, saying the country was facing crisis on economic, internal and external security and diplomatic front.
"The Congress-led UPA has taken country's economy to ICU, Indian currency is on ventilator, dollar is on escalator and domestic investors are on runway and our unemployed are on highway, in a nutshell that's how one can best describe the situation of our country at the moment," he had said.
Singh blamed the Samajwadi Party government in Uttar Pradesh for the riots in Muzaffarnagar, saying if it had taken effective steps on time, such an incident could have been avoided.
"Whenever the SP has come to power, communal tension and communal violence has increased in UP. During their one-and-a-half year rule so far, in 32 districts, there have been more than 53 incidents of communal violence and communal riots have taken place, which is a record in the history of any state of this country," he claimed.
Answering a question on the 1984 communal violence in Punjab and 2002 riots in Gujarat, Singh said, "'84 riots were a provoked violence. It was said then when a big tree falls, land shakes. However, there was no such provocation in 2002 by any of our leaders, this is the difference."
He, however, added, "I believe that any communal violence is unfortunate, I condemn it, everyone has condemned it, even (Gujarat Chief Minister) Narendra Modi has condemned it."
He said the "so-called secular parties" like Congress and SP rake up such issues to grind their political axe, but the truth was that incidents of communal violence take place during the rule of these parties as well.
Singh also accused Congress of being the "biggest communal party."
Seeking to counter the Congress charge that BJP is a communal outfit, he said it was Congress which believes in "divide and rule policy".
"They dub us as communal. I want to ask them that they have ruled India for such a long time, why have they failed to foster brotherhood relations between Hindu, Muslims and Christians," he said.
"British followed divide and rule policy and Congress adopted this policy from them. We are all one, whether Hindu, Muslim, Christians or Sikhs...We (BJP) have accepted this ideology of integral humanism, at whose centre is human being," he said.
On being asked that speculations were rife that BJP could enter into a tie-up with its erstwhile ally INLD in Haryana before Lok Sabha polls, he said, "We are living in the present. The fact is that we have an alliance (with Kuldeep Bishnoi's HJC), whatever we decide to do in future, we will inform you."
When asked that Shiromani Akali Dal's policies in Punjab are rural-focused while the BJP has a base in urban areas and whether it would affect its prospects, he replied in negative.
"BJP and SAD share old ties. If they are strengthening the rural economy, it is good because our country's largest producer and consumer is our farmer and if his purchasing capacity increases, it will give a boost and momentum to the entire economy."