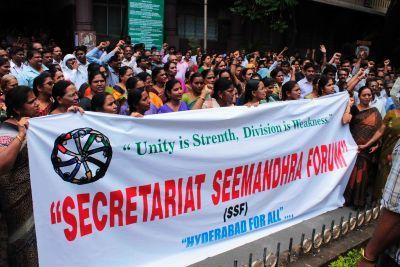 With Congress general secretary incharge of Andhra Pradesh affairs repeatedly making it clear that the decision to bifurcate the state and carve out Telangana was final, nearly half a dozen Congress MPs from Andhra and Rayalaseema region are likely to quit on Monday.
The MPs, who were taken to task by Digvijaya Singh for their repeated representations against Telagnana, have sought an appointment with the Lok Sabha Speaker Miera Kumar on Monday and they are likely to handover their resignations.
The Seema-Andhra leaders will hold a meeting to discuss the situation before proceeding to meet the Speaker. A couple of these MPs have already sent their resignation to the Speaker through fax but now they are planning to not only hand over their resignation in person but also press for its acceptance.
Y Venkatrami Reddy, Rayapati Sambasiva Rao, SPY Reddy, Magunta Srinivasulu Reddy, Lagdapati Rajgopal, V Arun Kumar and A Sai Pratap will be among those meeting the Speaker.
Interestingly the names of some of these MPs including Y Venkatrami Reddy of Anantapur were being linked to YSR Congress party. Sources said that along with Lok Sabha the MPs were also likely to resign from Congress party and join Jaganmohan Reddy's party.
Seemandhra MPs, who were in the forefront of agitation against the proposed bifurcation of the state, are now fighting back to the wall as the agitators in their regions are not willing to accept anything less than resignation.
In first of its kind incident Lagdapati Rajagopal was attacked by the protestors on Saturday.
On the political front also it was becoming clear that the Congress central leadership is in no mood to appease them.
Digvijaya Singh has gone to the extent of saying that they were free to quit if they want. Singh was equally curt with the wives of these leaders who met him separately with the same cause.
He described the talk of a united Andhra Pradesh a waste of time and asked them to focus their efforts on getting a good financial package for their regions instead.
Image: Seemandhra government employees protesting against bifurcation of Andhra Pradesh, in Hyderabad
Photograph: SnapsIndia