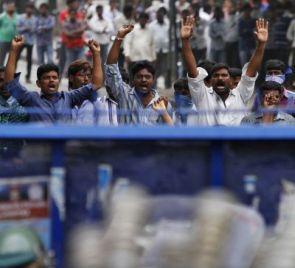 There has been mounting pressure on Congress MPs and ministers from Andhra and Rayalaseema region to quit as Union Home Minister Sushil Kumar Shinde is all set to submit the formal note on the proposed Telangana state before the Union Cabinet on October 3.
But the threat to resign on Monday was put off as the MPs meeting with Lok Sabha Speaker Meira Kumar was delayed by a day. According to the MPs they have received a call from Speaker's office informing that their appointment was fixed for 11.30 am on Tuesday.
Sources close to the MPs say they will urge the Speaker to accept their resignation which has been pending with her for quite some time. The MPs who want to quit include Y Venkatrami Reddy (Anantapur) and SPY Reddy (Kurnool) A Sai Pratap (Rajampet), all from Rayalaseema V Arun Kumar (Rajahmundry) and L Rajagopal (Vijayawada) both from Andhra.
Two more MPs Magunta Srinivas Reddy (Ongole) and G Harsha Kumar (Amalapuram) are also likely to meet the Speaker and submit their resignations.
According to information emanating from Delhi, after the cabinet considers the Union Home Ministry's note on bifurcation of Andhra Pradesh, the matter will be referred to a Group of Ministers for follow up.
The Congress leadership was also waiting for the report of the Antony committee that was likely to give input on the situation in Rayalaseema and Andhra on people strongly opposed to the Telangana state. The committee was likely to make a few recommendations on how to placate the people of the two regions.