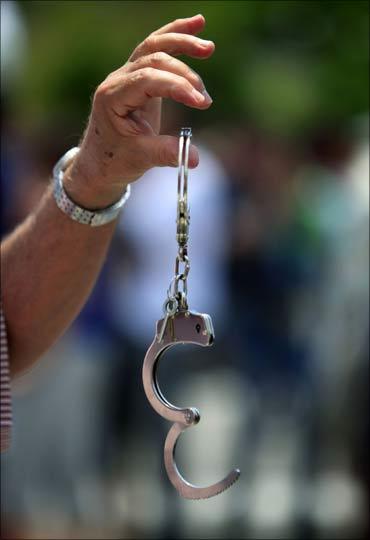 Rampant corruption in the Uttar Pradesh police is an open secret. But how blatant it has become has been spelt out by none other than widely known ruling Samajwadi Party Member of Legislative Assembly Ravidas Mehrotra.
Known for being quite vocal, Mehrotra, a second-term legislator from the state capital, has shot off a letter to the zonal inspector general of police pointedly accusing some local cops of indulging in open extortion .
The letter, released to the media, states, "I have received numerous complaints about blatant extortion and harassment of common people by Dheeraj Singh, the station house officer of the Ambedkar police station in Gomati Nagar. He is known for cooking false cases against common people from whom he demands money. He also blackmails young boys and girls visiting the parks."
He went on to draw the inspector general's attention to specific cases where innocent people were picked up from the park and taken to the police station where they were deprived of all cash they were carrying in their pockets.
"In one case, the victim happened to be Samajwadi Party Yuvjan Sabha secretary Kamran Siddiqui, who was deprived of Rs 2,000 and threatened with dire consequences on December 15," the letter points out.
While demanding a high-level probe into the matter, Mehrotra has demanded "immediate removal of the SHO from the police station, so that he cannot influence the inquiry."
Significantly, Lucknow Zone Inspector General Subhash Chandra, to whom the letter was addressed, has failed to initiate action so far. "We have received this complaint from the MLA. We are still looking into it", he told media persons.
A senior SP minister however admitted, "This is a matter of serious concern and something drastic needs to be done otherwise our party will get a bad name."
He said, "The government's credibility had already been affected because of bad policing and several pitfalls on the law and order front and corrupt practices by policemen will further tarnish its image." He however expressed hope that Chief Minister Akhilesh Yadav will take corrective steps.