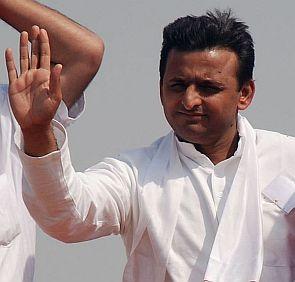 In an obvious bid to re-establish his credentials as a man of action, Uttar Pradesh's youngest chief minister Akhilesh Yadav appears to be once again making a bid to prove that he means business.
Akhilesh, 39, who had lost much credibility over the past 21 months that he has been in power, has set out to lay his new 'development agenda'.
Addressing a press conference in Lucknow on Monday, he sought to emphasise that he had charted out a comprehensive development plan for the state. Also the idea was to dispel the widespread impression that he was dominated by party elders, who were conspicuous by their absence at the press meet. Only his uncle Shivpal Yadav, a multiple-portfolio minister, joined the meet mid-way.
Flanked by his core team of top bureaucrats heading various key sectors, he got them to declare the roadmap prepared by the government to take UP on a forward march.
Most significantly, the state was going to reap a harvest on account of the creation of a Delhi-Mumbai Industrial Corridor. "This project envisages an investment of nearly Rs 25,000 crore besides creation of some 12 lakh jobs over the next three decades across the vast stretch that it would pass through Uttar Pradesh," disclosed Surya Pratap Singh, principal secretary (industries).
"The government of India has already sanctioned Rs 1,008 crore for the creation of an integrated industrial township and multi-modal logistics at Greater Noida for which the UP government had already provided land," he added.
He said, "UP would also benefit in a big way through yet another ambitious project – the Eastern Dedicated Freight Corridor -- undertaken by the Union government. This was expected to bring an estimated investment of about Rs. 42,000 crore in UP, through which the 1,049 km project would pass."
Some new units of Amul dairy were also proposed in the state and land has already been allotted to the giant Gujarat-based cooperative.
Earlier, led by chief secretary Jawed Usmani, the event commenced with principal secretary (public works) Rajneesh Dube making a presentation on the proposed network of roads, bridges and flyovers to be built across the state. He claimed a record number of flyovers and bridges are in the pipeline.
This was followed by another presentation by UP Power Corporation chairman Sanjay Agrawal, who declared how his organisation had cleared the long-pending financial liabilities of the organisation. He also rolled out a plan for fulfilling the chief minister's dream to bring power not only to the village level but right down to hamlets with population of more than 100. "We should be able to ensure 24-hour power supply to all district headquarters by 2016," said Agrawal.
J P Sharma, the principal secretary of medical education department, announced the names of four new medical colleges that are to come up over the next two years in the state.