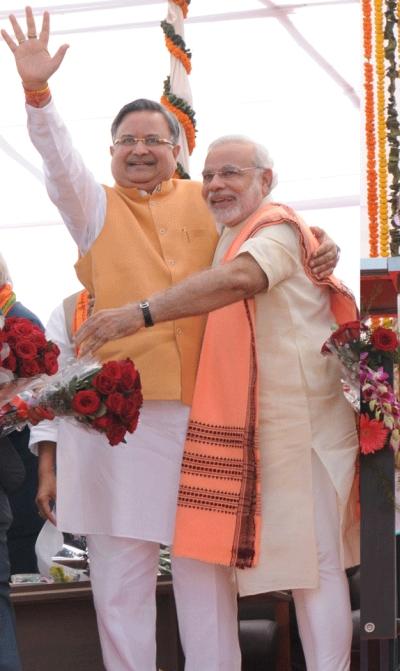 Ayurvedic doctor-turned-politician Raman Singh was on Thursday sworn in as chief minister of Chhattisgarh for the third consecutive term.
Singh, 61, was administered the oath of office and secrecy by Governor Shekhar Dutt during a grand swearing-in ceremony at the Police Parade Ground in Raipur.
The oath-taking ceremony was attended by Bharatiya Janata Party President Rajnath Singh, senior party leader L K Advani, Leader of Opposition in Lok Sabha Sushma Swaraj, Leader of Opposition in Rajya Sabha Arun Jaitley, Gujarat Chief Minister Narendra Modi and Madhya Pradesh Chief Minister Shivraj Singh Chouhan, among others.
Goa Chief Minister Manohar Parriker, Punjab Chief Minister Parkash Singh Badal, former Chhattisgarh chief minister Ajit Jogi and BJP leader Vasundhara Raje Scindia, who will take oath as Rajasthan chief minister on Friday, were also present during the grand function.
The ceremony was also attended by BJP leaders Harshavardhan Singh, Venkaiah Naidu, Nitin Gadkari, Ravishankar Prasad, Rajiv Pratap Rudy, Navjot Singh Siddhu, Ananth Kumar, Uma Bharati, Smriti Irani and former Jharkhand Chief Minister Arjun Munda.
The BJP registered a thumping victory in the assembly elections by winning 49 of the 90 seats, one less than its 2008 tally. Congress could only bag 39 seats in the 90-member assembly while the rest of the two seats went to the Bahujan Samaj Party and an Independent each.
Singh retained his Rajnandgaon assembly constituency by defeating Congress's candidate Alka Mudliyar, the wife of former Congress Member of Legislative Assembly Uday Mudliyar, who was killed in the Darbha Naxal attack in May this year, by a margin of 35,866 votes.
Singh has now joined the elite club of BJP chief ministers who have scored hat-tricks in their respective states.
Posters, banners and pamphlet carrying Singh's photographs were put on almost all the roads and market areas across the city.
Singh has earned the sobriquet of 'Chawal Wale Baba' for the popularity of his unique pro-welfare schemes, including distribution of rice at Rs one and Rs two per kg to families belonging to extremely poor and below poverty lines categories.
While interacting with reporters on Wednesday, Singh had said, "It is a failure of Congress strategists. They were so involved in 18 seats (which went to polls in the first phase on November 11), that they did not think of the 19th seat. Even Rahul Gandhi used to talk about 18 seats; he did not talk about the 19th seat."
Singh had said his government will concentrate on good governance and more development work during his third tenure.
Balloting in Chhattisgarh was held on November 11 and November 19. The results were announced on December 8.
Image: Chhattisgarh Chief Minister Raman Singh with Gujarat Chief Minister Narendra Modi ' Photograph Courtesy: http://cgstate.gov.in/