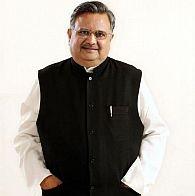 Dr Raman Singh, who on Sunday led the Bharatiya Janata Party to a third consecutive victory in the Naxal-affected state of Chhattisgarh, has earned the reputation of being a 'silent performer'.
Never regarded as a very right-wing Hindu-nationalist politician, Singh, 61, is known to skirt controversial issues such as Hindutva and conversions.
An Ayurvedic doctor-turned politician, the two-term chief minister has enjoyed an uninterrupted 10-year rule of the tribal-dominated state.
He has earned the sobriquet of 'Chawal Wale Baba' (rice god) for the popularity of his unique pro-welfare schemes including distribution of rice at Rs one and Rs two per kg to extremely poor families.
Though he has attracted frequent criticism for failing to thwart the rampant Maoist violence in Chhattisgarh, the tech-savvy Singh has turned the backward state into a model of development.
He has also been credited for bringing in the Chhattisgarh Food Security Act to ensure food to people of the state, much before the National Food Security Act, which is being considered as a "game changer" by the Congress party for the Lok Sabha polls.
Singh has won praise from political rivals including Finance Minister P Chidambaram for adopting a pro-active policy to tackle Naxalism.
Overcoming the anti-incumbency factor in the state, the BJP, led by Singh, is all set to form the government in Chhattisgarh for the third time.
Born on October 15, 1952 in Kawardha, Raman Singh hails from the Rajput community. He has been active in politics since 1976. His political journey began as a councillor of the Kawardha municipality.
Hailing from a family of farmers, Singh was elected as member of the Madhya Pradesh Legislative Assembly between 1990 and 1998. He has also represented Rajnandgaon constituency of Chhattisgarh in the Lok Sabha in 1999.
A former Union minister of state for commerce and industry, Singh has defeated Congress' veteran leader Motilal Vora by a margin of 26,715 votes in the 1999 general elections.
Singh, on whom the BJP relies heavily for its image, was later selected as president of the state unit of the party after the formation of Chhattisgarh in 2000.
He practiced Ayurvedic medicine in his hometown Kawardha after completing the course. His simplicity, openness and commitment to serve had made him quite popular among the locals.