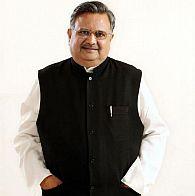 Chhattisgarh Congress on Sunday released a 20-point "charge sheet" against Raman Singh government, accusing it of failing to tackle Naxalism and practising corruption.
A day ahead of the first-phase of assembly elections in 18 constituencies in the worst Naxal-hit regions of Bastar and Rajnandgaon, the opposition party also accused the ruling BJP of looting natural resources.

Releasing the "charge sheet" at a press conference in Raipur, state Congress chief Charandas Mahant accused the government of failing to curb Naxalism.
He said due to lapses in providing security to Congress' 'Parivartan Yatra', the party lost a number of its leaders in a Naxal attack earlier this year and held the ruling BJP "fully responsible" for it.
Mahant alleged that BJP had collusion with Naxals and said, "People of Rashtriya Swayamsewak Sangh, disguised as Naxals, are roaming in the jungles of Bastar."
He charged the BJP government in Chhattisgarh with breaking all records of corruption.
Mahant also charged the government with forcing poor farmers to sell their land and forcibly acquiring their land.

"Natural resources, including iron ore, coal, rivers and forests have been given to industrialists without any transparency," he alleged.
The Congress leader attacked the ruling party on the issue of safety to women, increase in power tariff, unemployment and medical facilities.