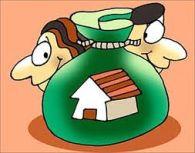 Protests erupted across Assam against the Saradha group for allegedly duping its investors, agents and employees engaged in its various companies in the state.
Irate investors and collection agents ransacked the group's realty, agro industry and media offices in Guwahati and a biscuit factory in Dhubri breaking down furniture, doors and windows, officials said.
Demanding returns on their investments, the angry people also broke down the vehicles and scooters of the group, including that of Saradha Media, Saradha Agro Products, Saradha Reality here and Saradha Biscuit Factory in Dhubri district.
The employees of the group's English daily 'Seven Sisters Post' and Bengali daily 'Shakalbela' complained that they had not been paid salaries for the past three months.
The landlords of houses where the group's various offices were located in Zoo Road, Lal Ganesh and other areas of Guwahati were also not paid rent before the newspapers closed down in March-April, they claimed.
The investors were angry that there was no authority of the group available here to either assure them about return of their funds or explain the situation to them.
The Saradha Media employees said they did not doubt the credentials of the group's owner as he had the backing of prominent politicians of the state and had opened swanky offices.