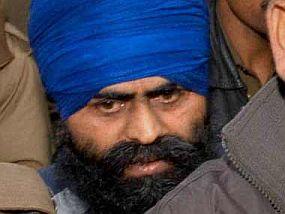 The Asian Centre for Human Rights on Thursday submitted a fresh mercy plea to President Pranab Mukherjee seeking commutation of death sentence of condemned prisoner Devender Singh Bhullar to life imprisonment.
The ACHR claimed in a statement that there is already a precedent for the President of India to reconsider a mercy plea twice.
The mercy plea of death-row convict, Mahendra Nath Das, of Assam was considered twice as shown from the minutes of the Rashtrapati Bhawan supplied under the RTI Act.
On 30 September 2009, President Pratibha Patil sent a "communication to the Home Minister noting that the conduct of Mr Das did not show trace of pre-meditated murder and that the crime could have been committed due to lack of mental equanimity. In view of the above, the Home Minister was advised to consider extending the benefit of clemency to Mahendra Nath Das and that during his incarceration in prison, he may receive periodical counselling to reform his personal and mental psyche".
"If Mr Das's mercy plea could be reviewed twice, there is no reason as to why Bhullar's mercy plea cannot be considered afresh." - said Suhas Chakma, Director of Asian Centre for Human Rights.
In addition, Asian Centre for Human Rights stated the Government has failed to comply with the order of majority judges i.e. Justices Arijit Pasyat and B N Agrawal in the case of Bhullar that "if any motion is made in terms of Section 432, 433 and 433A of the Code and/or Article 72 or Article 161of the Constitution as the case may be" the views of Presiding Judge Justice M B Shah be taken as per Section 432(2) of the Criminal Procedure Code. Justice Shah's views have not been sought and the Government cannot hang somebody in clear violation of the order set out by the Supreme Court.
"Had Mr Bhullar not been tried under the Terrorist and Disruptive Activities (Prevention) Act (TADA), he would have been acquitted as under Section 25 of the Indian Evidence Act any confessional statement given by accused to police is inadmissible as evidence and cannot be brought on record by the prosecution and is insufficient to convict the accused." - Further stated Mr Chakma.
Asian Centre for Human Rights also submitted 16 judgments in which death penalty was commuted to life imprisonment by the President despite no dissenting judgment of any of the judges of the Supreme Court. This is in contrast to the dismissal of mercy petition of Mr Bhullar despite dissenting judgment of Justice Shah.
Asian Centre for Human Rights stated that the adoption of specific resolutions in the State Assemblies of Jammu and Kashmir, Tamil Nadu and Punjab against imposition of death penalty shows that a substantial segment of the Indian society is not ready to accept death penalty. It is in India's national interest to abolish death penalty.
Giving 10 grounds, Asian Centre for Human Rights called upon the Government of India to commute condemned prisoner, Mr Devender Pal Singh Bhullar's death sentence to life imprisonment; declare a moratorium on death penalty; and set up an expert committee to consider ways/means for final abolition of death penalty.