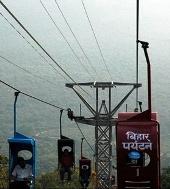 In the backdrop of a demand from political parties in Bihar, led by the government, for special category status, the Cabinet Committee on Economic Affairs on Friday approved allocation of enhanced funds for the state, of Rs 12,000 crore (Rs 120 billion) as a special plan under the Backward Region Grant Fund for the 12th five-year plan (2012-13 to 2016-17) against Rs 6,500 crore (Rs 65 billion) in the previous plan.

The CCEA also decided that the Bundelkhand region in Uttar Pradesh and Madhya Pradesh would get the remaining funds of a package announced in 2009-10 in the 12th plan.

In 2009-10, the government had allocated Rs 7,266 crore (Rs 72.66 billion) for three years to Bundelkhand.

Only Rs 2,766 crore (Rs 27.66 billion) had been utilised in these three years, by when the 11th plan was over.

Now, the government will extend the remaining funds for the 12th plan.

The Kalahandi-Bolangir-Koraput area of Odisha is to get the same amount in the 12th plan as in the 11th plan, of Rs 250 crore (Rs 2.5 billion) a year.

To a query on whether the CCEA decision had political connotations, Information and Broadcasting Minister Manish Tewari told reporters: "Every administrative decision should not be viewed with a political angle."

Backdrop

Bihar Chief Minister Nitish Kumar has long been demanding special category status for his state.

This would enable him to get a host of benefits, including extended tax breaks.

It would also mean alteration of the current formula of 30 per cent loan and 70 per cent grant to 10 per cent loan and 90 per cent grant for centrally-sponsored schemes and external aid, besides fiscal concessions.

A special category status is accorded to a state on the basis of five conditions -- hilly and difficult terrain, low population density and sizeable share of tribal population, strategic location along borders with neighbouring countries, economic and infrastructure backwardness and non-viable state finances.

On these grounds, an inter-ministerial group, set up after the intervention of Prime Minister Manmohan Singh, had earlier rejected the Bihar government's plea to grant it the special category status. So far, 11 states have been accorded the status -- Arunachal Pradesh, Assam, Himachal Pradesh, Jammu & Kashmir, Manipur, Meghalaya, Mizoram, Nagaland, Sikkim, Tripura and Uttarakhand.

The Budget for 2013-14 announced an enhanced allocation under the BRGF to Rs 11,500 crore (Rs 115 billion) for the previous financial year against Rs 10,524 crore (Rs 105.24 billion) in 2012-13.

However, compared to the BE of the previous financial year, the allocation is less for the current financial year.

As much as Rs 12,040 crore (Rs 120.4 billion) was initially allocated for 2012-13 in the Budget Estimates.

Finance Minister P Chidambaram had said in his speech for the 2013-14 Budget that the present criteria for determining backwardness under BRGF could do with a review.

These were based on terrain, density of population and length of international borders.

"It may be more relevant," he said, "to use a measure like the distance of the state from the national average under criteria such as per capita income, literacy and other human development indicators."

He proposed to evolve a new criterion and reflect that in future planning and devolution of funds.

Other decisions

The Cabinet also approved release of an additional eight per cent Dearness Allowance to central government employees and Dearness Relief to pensioners with effect from January 1 this year over the existing 72 per cent.

This will hit the exchequer by Rs 8,629 crore (Rs 86.29 billion) a year and Rs 10,067 crore (Rs 100.67 billion) in 2013-14, at a time when the Centre is facing a resource crunch.

It also gave a nod to the Indian Railways for using its land for metro network crossings. It also allowed IR to open Kendriya Vidyalayas on its land.

Another decision was approval of a Rs 1,083 crore (Rs 10.83 billion) package to revive the tractor unit of HMT, officials said.


Walmart, child policy


The Cabinet also extended the tenure of the one-member committee headed by former judge Mukul Mudgal to look into allegations of lobbying by US retail giant Walmart to gain entry into India.

The extension is by a month, till May 31, as fresh details have been sought from the company.

In its previous meeting, earlier this month, the panel had sought fresh details from the US-based global retailer and had said that investigations might take some more time to be completed.

The Cabinet cleared a national policy for the child.

The policy has identified survival, health, nutrition, education, development, protection and participation as the undeniable rights of every child, and declared these as priority areas.
CALLS TAKEN

Other major decisions taken on Thursday


The Cabinet approved release of an additional eight per cent Dearness Allowance to central government employees and dearness relief to pensioners
Allowed Indian Railways to use its land for crossing metro networks and opening Kendriya Vidyalayas
Approved a Rs 1,083-crore (Rs 10.83-billion) package to revive tractor unit of HMT
Extended the tenure of the one -member committee for the Walmart probe
Image: Bihar | Photograph: Reuters