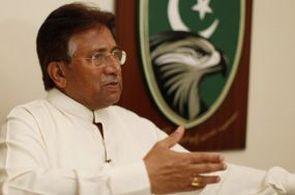 A Pakistani anti-terrorism court today reprimanded a senior police officer for failing to produce Pervez Musharraf before it in the Benazir Bhutto assassination case in which the former military ruler is one of the prime accused.
Musharraf, 69 was not brought to the court at the last hearing on July 2 due to security reasons and the anti-terrorism court judge had directed the authorities to produce him on the next hearing today in Rawalpindi.
On Tuesday, the police again said that they could not bring Musharraf due to security reasons, angering the judge, a court official said.
The court reprimanded a senior superintendent of police for ignoring the orders to make arrangements for the security of the former ruler and said that next hearing will be held in jail if police failed to comply with the orders.
"Either he (Musharraf) should be brought at the next hearing or the proceeding should be shifted to the jail if the police cannot take care of security," said the judge and fixed the next hearing on July 30.
The former army general has been named as one of the key suspects in the killing of former two-time prime minister who was assassinated in 2007. He has been detained in his palatial residence in suburbs of the capital since his return in March after about four years of self-imposed exile in Dubai and London.
Musharraf also faces charges in two other high-profile cases, the 2006 killing of Baloch nationalist leader Akbar Bugti in a military operation and for allegedly committing high treason by subverting the Constitution and sacking judges of the higher judiciary in 2007.
Musharraf took over the government power in 1999 after deposing prime minister Nawaz Sharif and remained in power until 2008.