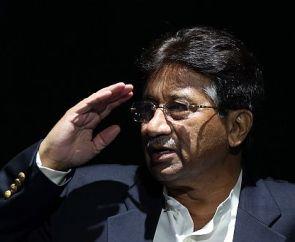 Former Pakistani military ruler Pervez Musharraf, one of main accused in the assassination of former premier Benazir Bhutto in 2007, on Tuesday failed to appear before an anti-terrorism court, which took strong exception and ordered his physical presence on July 9.
Musharraf, 69, has been named as one of the main accused in assassination of Bhutto by the Federal Investigative Agency last month.
The Anti-Terrorism Court in Rawalpindi fixed July 9 for next hearing and ordered the authorities to produce Musharraf, a court official said.
Musharraf failed to appear before the court due to security reasons, officials said.
Bhutto was assassinated in a gun-and-bomb attack outside Rawalpindi's Liaquat Bagh ground shortly after addressing an election rally on December 27, 2007. Musharraf has also been accused of failing to provide adequate security to Bhutto.

On June 25, the FIA had submitted a chargesheet against Musharraf including him in the list of main accused in the case in the ATC in Rawalpindi.
The FIA had also presented a four-point chargesheet against Musharraf in the court, accusing him of hatching a conspiracy to assassinate Bhutto.
The ATC judge Chaudhry Habib-ur-Rehman had ordered that Musharraf must be produced in the court on July 2.

Musharraf, who returned to the country in March after nearly four years in self-exile, has been kept at his five-acre palatial farmhouse on the edge of Islamabad over security concerns and his house has been declared as a sub-jail.
Musharraf also faces charges in two other high-profile cases, the 2006 killing of Baloch nationalist leader Akbar Bugti in a military operation and for allegedly committing high treason by subverting the Constitution and sacking judges of the higher judiciary in 2007.