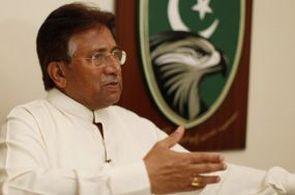 The Pakistan Supreme Court on Wednesday directed the government to initiate a probe against former military ruler Pervez Musharraf in the high treason case and complete the investigation without "unnecessary delay".
A three-member bench headed by senior judge Justice Jawad S Khawaja in its order, directed the government to pursue investigation against Musharraf under the constitutional provisions in high treason case and complete the investigation in the minimum possible time.
The judge asked the government to complete the investigation in the case without unnecessary delay. Neither the government nor the court set any deadline for completion of probe by the investigators of federal investigation agency, which may lead to framing of treason charges and institution of proceeding in a court of law.
The court was told that government had already constituted a special team to investigate the case. Under the law, only federal authorities can order proceedings for treason. The treason under article 6 carries maximum death sentence.
The court also disposed off several petitions seeking launch of treason case against 69-year-old Musharraf for abrogating the Constitution in 2007. The petitioners had asked the court to issue a directive to the government to try Musharraf for treason under article 6 for suspending the constitution.
Prime Minister Nawaz Sharif had announced on June 24 that Musharraf will be tried for treason under Article 6 for subverting the constitution twice. Sharif said Musharraf violated the constitution twice -- first when he overthrew an elected government in 1999 and put everything into jeopardy and secondly when he sacked judges and imprisoned them.
Musharraf took the government in 1999 by deposing Sharif and remained in power till 2008. Musharraf may become the first dictator in Pakistan's history to face trial for high treason in the country that has witnessed three military coups in its 66-year history.
Musharraf had come to power in 1999 by deposing Sharif's last government in a coup.
Musharraf is currently imprisoned in his house in suburbs of Islam Musharraf, who returned to the country in March after nearly four years in self-exile, has been kept at his five-acre palatial farmhouse on the edge of Islamabad over security concerns and his house has been declared as a sub-jail.
Musharraf also faces charges in two other high-profile cases, including the assassination of former Prime Minister Benazir Bhutto and the 2006 killing of Baloch nationalist leader Akbar Bugti in a military operation.