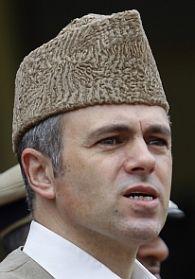 "The proof of the pudding is in the eating," Jammu and Kashmir Chief Minister Omar Abdullah said on Sunday, emphasising that he would love to see what Pakistan's Prime Minister Nawaz Sharif will do to improve ties with India.
Describing as "heartening" some of the statements emanating from Islamabad after Sharif's return to power, Omar said improved relationship between India and Pakistan benefitted his state, which suffers when Indo-Pak ties turn sour.
The chief minister expressed the view that one indicator of Sharif's commitment to improve the ties could come from whether Pakistan buys 500 MW of electricity from India.
"Today, Pakistan has villages where 22 out of 24 hours, there is no electricity, cities where you have power cuts for ten hours. Whether the establishment and some other forces in Pakistan allow him to buy that electricity, let's see. Will he be able to give India Most Favoured Nation status," he said.
"Because if you can't move forward on areas in which Pakistan is going to benefit, how could we expect him to move forward in areas like Siachen, Sir Creek and the biggest question of all, which is Kashmir," the chief minister said.
After Sharif was voted back to power, Omar had said the Pakistan Muslim League - Nawaz leader had the track record of trying to improve relations between the two countries.