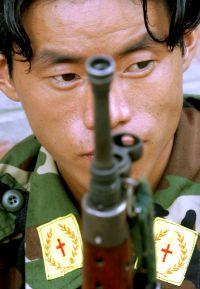 The Nagaland government has directed all its deputy commissioners to take immediate steps to ensure protection of the Karbi tribe community of Assam who are residing in different districts of Nagaland.

The order came in the wake of the prevailing social tension between the Karbi and Rengma Naga tribes in Assam's Karbi Anglog district. The situation went out of control after the killing of Rengma Naga villagers and the subsequent retaliatory killings of nine Karbis in Nagaland.

The district administration in Nagaland has also been instructed to take stock of the situation and take necessary measures in co-ordination with the police and the public towards providing security to the Karbis living in Nagaland.

The Nagaland government has asked the district administrations to establish
communication with members of the Karbi community and involve tribal bodies, civil societies and non-government organisations in creating a congenial environment conducive for maintaining normalcy
and in providing security to the tribe.
"The deputy commissioners may also identify respective employers of the tribe working in the district and sensitise them to the requirement for providing security to their employees," Additional Chief Secretary and Commissioner, Nagaland, Banuo Z Jamir stated in an order.
The government order said the law and order situation prevailing in the Karbi Anglong district of Assam and the recovery of nine bodies in the Dimapur district have resulted in a lot of tension and created apprehension in the minds of the public at large.
To prevent further escalation of tension, an urgent need was felt to create an
environment promoting a sense of security for all concerned for reducing the tension, particularly among members of the Karbi community, residing in Nagaland.