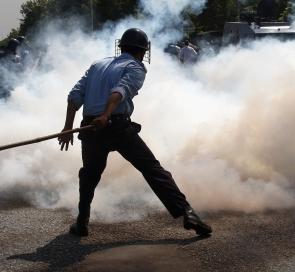 At least seven persons, including three women, were killed in a remote village in Assam's Karbi Anglong district on Friday during a clash between Karbi tribe militants and Rengma Naga who defied quit notice served on them by the Karbi ultras.

The clash has created tension along Assam-Nagaland boundary areas even as about 500 panic stricken Rengma Naga villagers fled the area to safety following the clashes.

According to a police source four Rengma Naga villagers were shot dead inside their thatched dwelling houses by a group of about 15 heavily armed militants, suspected to be from the outlawed Karbi People's Liberation Tigers.
The ultras also torched several houses and granaries. According to the villagers, three women and an adult male were shot dead by KPLT ultras while others managed to flee the village on hearing the sound of gun shots.
The deceased have been identified by police as Mrs. Logu Hembu, wife of the village headman, Mrs. Noshengle Hembu, Rhenho Nandu and Mr. Kegwathong Kemp.
Three of the KPLT guerillas were also killed by the militant Rengma Naga Hills Protection Force in a retaliatory attack.
The incident occurred at Khuwani basti, under Santipur police station of Bokajan subdivision, around 180 kilometres from Diphu, the headquarter town of Karbi Anglong hill district.
About 500 Rengma Naga villagers from the affected village and adjoining areas have fled from the troubled area leaving behind their homes and orange orchards. According to Assam police, around 500 panic-gripped Rengma villagers have taken shelter in Silonijan, a semi-urban area around 50 kilometers from the Rengma settlement.
Two relief camps have been set up by the administration near Chokihola police station for accommodating around one thousand Rengma Naga villagers.
Meanwhile security forces have launched a massive combing operation in the suspected hideouts of KPLT militants.
The incident came after few days of two consecutive skirmishes between the Rengma villagers and KPLT militants before Christmas.
Rengma Naga community is mostly settled in Chokihola locality under Nilip development block of Bokajan subdivision commanded by Santipur and Chokihola police station. Agriculture and cultivation of orange and livestock are the principle means of livelihood of this small Christian community.
They were served quit notice by the KPLT ultras earlier. The Assam police along with Central Reserve Police Force and Indian Army personnel have launched a massive combing operation in the area to flush out KPLT ultras as well as to arrest further violence.
Image for representation only