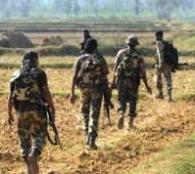 The Naga Rengma Hills Protection Force has claimed responsibility for the brutal killing of nine people of the Karbi community, all residents of Assam's Karbi Anglong district on December 28.
The recovery of decomposed bodies of nine Karbi persons, with hands tied, eyes blindfolded and bullet mark on heads, at Pachaspura near Chumukedima in Nagaland on January 3 has sparked fresh tension.
The NRHPF said that they killed the nine youths including a students' leader in retaliation to the killing of four Rengma tribals by the Karbi People's Liberation Tigers.
"Our operation team led by the eastern commander Yangky Phukan Rengma caught three persons believed to be suppliers of arms to the KPLT from Assam's Lahorijan area, Bokajan. They led to the capturing of six more persons. After confirming their involvement in the gun racket, our soldiers killed them. We could not bring the bodies back due to the security dragnet," said Keyhang Rengma, 'commander-in-chief' of NRHPF from an undisclosed location.
The clashes between the two ethnic insurgent groups have claimed 16 lives so far and rendered nearly 3,000 people homeless since December 27.

Meanwhile, the Assam government has announced a compensation of Rs 6 lakh to the next of kin of the deceased.
Various civil societies including the Karbi Students Association (Mirjeng Kro faction) have called for a 15-hour general strike in the Karbi Anglong district, which began on Tuesday.
The KSA has demanded the arrest of the culprits within 72 hours and threatened indefinite economic blockade if the Nagaland government failed to act.
The KPLT is demanding a separate state comprising two hill districts -- Kabri Anglong and Dima Hasao.
The RNHPF was formed in 2012 for protection of the Rengma Nagas from KPLT attacks. It has been demanding the creation of a regional council for the Rengma Nagas of Karbi Anglong.