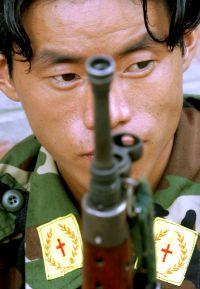 The Centre is likely to rush additional paramilitary forces to trouble-torn areas along the Assam-Nagaland border to maintain peace and prevent the clashes between Naga and Karbi tribals from spreading.
Sources said preliminary investigations suggest the involvement of a dominant Naga insurgent group in the killings but it was too early to come to a firm conclusion.
Nine people -- eight labourers and one student leader -- were brutally killed and buried in Nagaland's commercial hub Dimapur. The victims were blindfolded with hands tied and shot at from close range and the corpses were stacked atop each other.
Around 1,500 paramilitary personnel were already deployed along the Assam-Nagaland border in Karbi Anglong district from where the victims belong and more troops are expected to be sent soon to check the violence, the sources said.
Nearly 2000 people from each of the communities have moved into separate relief camps after they fled their respective villages as tension gripped the border areas.
The killing of the nine people had followed the murder of four Rengma Nagas, including three women, allegedly by Karbi Peoples Liberation Tigers militants. The KPLT attack had come in retaliation of killing of its two cadres allegedly by Naga Rengma Hills Protection Force and torching of several houses were on December 27, the sources said.
A CBI investigation into the incident, as demanded by Assam Chief Minister Tarun Gogoi, could be ordered only when the Nagaland government agrees to it.
The sources said a probe by the premier investigating agency is unlikely as of now since the Nagaland government has already constituted a Special Investigating Team to go into the issue.
K Anurag adds from Guwahati:

Night curfew remained clamped along Assam-Nagaland border areas in Karbi Anglong hill district of Assam while police and paramilitary forces were on constant vigil because of tension brewing between Rengma Naga and Karbi tribe communities in the area.

Assam police have arrested five persons from Karagaon and Balijan areas under Khatkhati police station on Sunday night. One of the arrested was released while cases was registered against four others who are suspected to be involved in the incidents of firing at a Karbi tribe village on January 4 in which two persons were injured.

Police informed that the arrested persons were identified as Zhutovi Sema, Yeheka Chophy, Yehakato Chophy and Zakato Chophy Aomi of Zuneboto Nagaland. They were suspected to be involved in killing of nine persons at Chumukedima in Nagaland.

One of the bodies was identified as that of Harlongbi Ingti Kathar who was the general secretary of the Karbi Students Association. Four others bodies were identified as those of Karbi youths Dhani Ingti, Rajib Ingti, Sunil Rongpi and Mongol Singh Ingti who hails from Upper Deopani area of Karbi Anglong, according to police in Dimapur. They were missing since December 28 while going to Dimapur from Kohima where they were engaged as construction workers.

Meanwhile, the Rengma Naga People's Council, the apex body of Rengma Naga tribe in Rengma hills in Assam has demanded bifurcation of the Karbi Anglong Autonomous Council administrative area into two parts -- Rengma Hills and Hamren sub-division.
The RNPC in a statement said that Rengma Hills covering an approximate area of 8724 square kilometers will be homeland for non-Karbi communities including Rengmas, Dimasas, Adivasis, Kukis and Nepalis and other mainland Indian communities while Hamren sub-division will be under the jurisdiction of Karbi people.
Image: Preliminary investigations suggest the involvement of a dominant Naga insurgent group in the killings
Photograph: Reuters