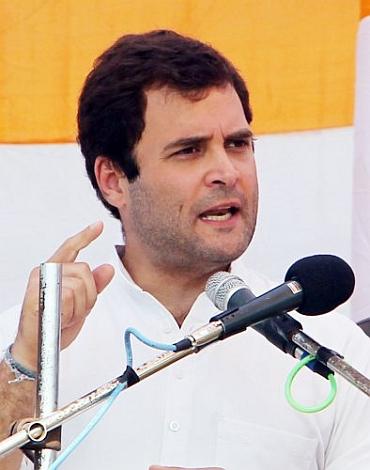 Congress Vice President Rahul Gandhi on Sunday asked the victims of Muzaffarnagar riots living in relief camps here to go back to their homes, saying those engineering communal riots want them to remain in the camps as such a situation "benefits" them.
Gandhi's closely guarded visit to relief camps of Muzaffarnagar riot victims began early morning from Muslim-dominated Malakpur in UP's Shamli district where he held interactions with community members.
"Those who engineer communal riots want that you should not go back. This benefits them. They want to keep you away from your villages. I know it is difficult and there is also fear there but we have to think beyond. This will not be good in the long run.
"The message goes out that you will not go back to your villages. Those fanning communal riots precisely want this to happen," he told the riot victims.
However, there were clear voices from the riot victims that they do not want to go back to their homes as they fear they would be attacked again. Gandhi also held interactions with riot victims at nearby Khurgan camp where Congress has put up medical camps.
The Congress Vice President is scheduled to visit more than half a dozen camps in Muzaffarnagar and Shamli districts. One of the victims at the camp said this is the first time that a senior leader has visited them.
Talking to Gandhi, they said that unless the key conspirators behind the riots are sent back, they would not have the courage to go back to their homes.
The death of children in relief camps due to cold wave has triggered a controversy in the state.
All India Congress Committee General Secretary Madhusudan Mistry, who is accompanying Gandhi, alleged the state government has not bothered to provide even basic amenities like adequate foodgrain and drinking water in the camps.
The issue of children dying in Muzaffarnagar camps was raked up in Parliament last week. The Supreme Court had on December 12 taken "serious" note of deaths of over 40 children in relief camps for riot-affected people in Muzaffarnagar and directed the Uttar
Pradesh government to immediately take remedial measures to meet the threat of winter.
Following the court order, the Uttar Pradesh government had set up a high-level committee to look into the issue. An estimated 4,000 people are still living in the five relief camps in Muzaffarnagar and Shamli.
At the Barnali camp, a youth asked the Congress vice president, "Are we are not Indians just because we are Muslims?" to which Gandhi said, "No, you are very much an Indian."
As the interaction progressed with the victims and their representatives, AICC Minority Department Chairman, Khurshid Ahmed Saiyed, who hails from Gujarat, exhorted them to gather courage and go back to their homes telling them that the situation must not be worse than Gujarat which had witnessed riots in the past.
At Bharnau, the relief camp dwellers sat on the roads and sought more time from the Congress vice president to explain their problems. On the way, Gandhi stopped briefly at many places to talk to the locals and asked what prevented them from returning to their villages and what specific steps could help them to go back to their homes.
Saiyed said they would have been able to do much more if the Congress was ruling UP, but the Central government could not push through many things as the state is ruled by another party.