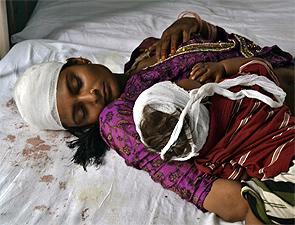 After remaining in a denial mode for weeks, the Uttar Pradesh government has at long last admitted that 11 children did die due to cold in the poorly maintained post riot relief camps in Muzaffarnagar.
Even as unofficial reports alleged more than three dozen deaths in the camps set up in Muzaffarnagar and Shamli in the aftermath of the communal violence that rocked the two districts in August-September last, officials said that the death of six other persons was "still under investigation." The riots, it may be recalled had left more than 50 dead.
The admission by the state authorities came in response to a public interest litigation moved by a social activist, seeking intervention of the Supreme Court to improve the conditions prevailing in the relief camps. According to an affidavit filed by the petitioner, as many as 39 refugees had lost their lives in the relief camps over the recent past.
These were stated to include 24 kids.
It was also alleged in the petition that at least eight new born babies lost their lives simply because of lack of basic medical facilities in the camps where the delivery of the mothers was carried out.
Initially, the state authorities as well as top leaders of the ruling Samajwadi Party flatly denied these deaths. They even went to the extent of accusing the media of "blowing things out of proportion with the intent to sensationalise."
However, no sooner than the apex court took note of the petition move by activist Shahid Hasan, who not only submitted the names of the dead, but also specified the camp where such individuals had died, the state government woke up from its slumber.
A report was sought from the district magistrate, who was left with no choice but to unfurl the truth in a report that he sent to the state government.
In a statement eventually issued by Muzaffarnagar district magistrate Kaushal Raj Sharma, besides admitting the death of 11 children, it was also stated, "We are ensuring a thorough medical examination of all inmates at each relief camp; also all expectant mothers would be shifted to the district hospital."
Samajwadi Party leaders, who had been earlier denying the deaths, were not available for comment.
Image: A woman and her child, who were injured in communal clashes, rest on a hospital bed in Muzaffarnagar
Photograph: Reuters