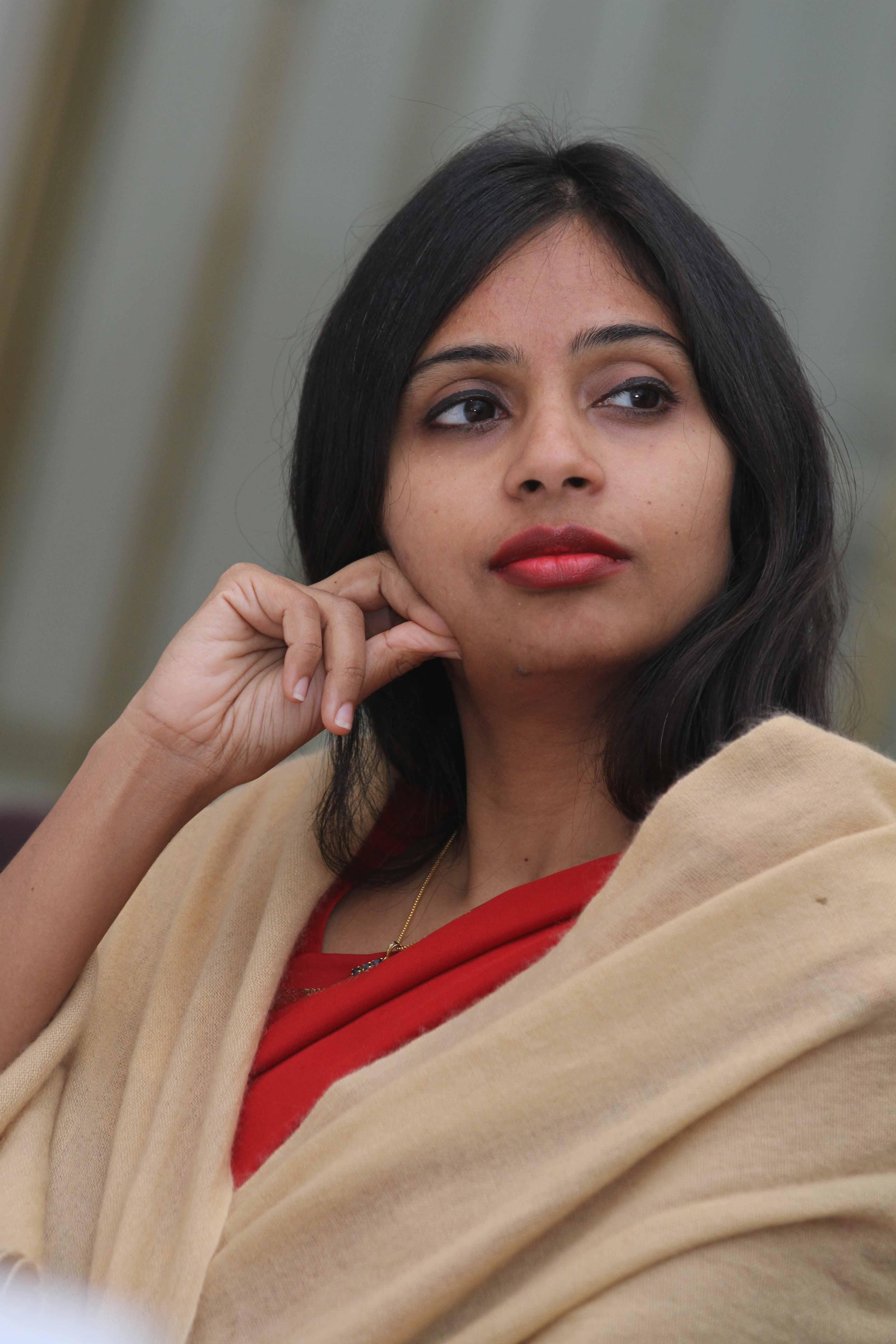 'If the Americans believed that India is as strong as China or Russia, would they have shown this scant respect for us,' asks Tarun Vijay, MP.
'An economically strong and militarily powerful India would never have had this experience. Not just the Americans, everyone in this world respects might. China receives respect, India gets the law book.'
My daughter Shambhavi, showing great prudence and maturity, wrote to me last evening: 'I am sure that if all the elected leaders of our country are called in and asked to take a stand about the issue of America treating us the way it has been, they would agree that the solution is to continue the warm relations with the required amendments.'
America and India, like other superpowers, cannot afford to dismiss relations, but need to move on with the peaceful corrections they need for a smoother journey together.
Although disrespect is way out of line, I believe, to win is not to kill, but to learn to live with a Mahatma Gandhi and a Martin Luther King, so I would still see Barack Obama as a friend.
The truth of the matter is we can't afford to lose each other, and there must be mature people in the US State Department who recognise this.
Long-term journeys are not terminated midway.
Back home, we must reflect and have a reality check.
An economically strong and militarily powerful India would have never had this experience. Not just the Americans, everyone in this world respects might.
China receives respect, India gets the law book.
Governance in India needs an overhaul, not squabbling actions like removing barricades from the road leading to the US embassy.
India is neither Peru or Panama nor Venezuela. Act powerful and self-confident and see the change.
A nation that is poverty stricken, soft towards terror groups and their patrons, slow on building infrastructure, plagued with anarchist political tamashas and manageable State agencies won't impress anyone.
Its truth will not be accepted. Its pain will not be felt. Its genuine desire for friendship shall remain a 'use and throw' gambit for others.
The Devyani Khobragade issue has now escalated beyond her. It is going to have serious repercussions on our bilateral ties, and also on geopolitical equations in the region.
It will be interesting how China, Russia and Pakistan perceive the war of words between the two avowed friends. India and the US being touted as most natural strategic allies made political pundits write about how China feels concerned about the growing proximity between India and the US along with its allies like Japan.
Pakistan too now feels more comfortable that the Indians are being subjected to the same humiliation and coercive diplomacy as is Islamabad.
One of my friends in Pakistan said, "Look, this is why we in Pakistan react angrily to US intervention and dadagiri." I was left speechless. Should I support US actions in Pakistan as I have been doing till now or condemn them?
The pinpricks exchanged between South Block and the could-not-care-less State Department have gone too far. It is the first time that common Indians, cutting across party lines, have looked upon America in a shockingly angry mood.
Normally, there exists a natural affinity and respect for the US even amongst the less aware common sections in India. Years of methodical studies of their great democratic history, struggles and the heroes they produced like Thomas Jefferson, Abraham Lincoln, John F Kennedy clubbed with the respect Americans show for our Gandhi have contributed immensely in creating a positive atmosphere for our ties with the US.
Obama's election, created a wonderful feeling in India and we saw it as the most positive and Gandhian development in American politics.
Where do we go from here?
Should all that togetherness be allowed to be reduced and shrunk abysmally?
How do we redeem the same levels of confidence and bonhomie that has been the cornerstone of our global strategic ties and diplomacy?
If India needs a US strategically, the US need us as well. If we have been ignoring the less acceptable dimensions of US policies, like the way it treated our students, its help to Pakistan, the imbalance in trade, and not-so-friendly cooperation on the David Headley issue, the US too is required to reciprocate.
Secretary of State John Kerry's phone call to National Security Advisor Shivshankar Menon looks a hollow gesture as everything against India's deputy consul general occurred with the State Department's approval.
The coloured Western press has been too prejudiced in reporting the Indian side of the story, often labelling its complaint as a 'patriotic outburst just before the elections' and an 'over-reaction of the Indian Foreign Service lobby.'
If Kerry was regretting without showing any signs of regret, India's Minister of External Affairs Salman Khurshid woke up to the incident too late, wasn't smart to put the facts before the public immediately and was seen as being lethargic in dealing with this matter.
Even though the MEA took up the issue with the State Department and the US embassy in New Delhi, the required follow-up was missing. They allowed Sangeeta Richard's family to be 'evacuated' by the US from under its nose.
Why did the US embassy in India and the State Department chose to ignore New Delhi's requests for so long?
Why did they not feel this is an urgent matter which needs to be responded quickly in a friendly manner?
Why is an impression gaining ground that the US treats India as its pastureland and can influence our media, politics and governance?
Why have most of our pro-America leaders been conspicuous by their silence on the Devyani issue?
The real answer lies in our weakness, both economic and in defence matters. We are known as a poor, backward people led by corrupt politicians.
India is no longer a land of brilliant, dreamy-eyed progressive, highly-prosperous youngsters. But a land where law and order is subservient to the political bosses.
If the Americans had a perception that India is as strong as China or Russia, would they have shown this scant respect for our friendship?
The MEA has come out with startling details about the legal position regarding the Khobragade-Richard episode.
Clearly, the Richards were conniving with the Delhi-based US embassy to act against their motherland to get passage to the US.
The issue has also exposed the sham patriotism of the NRI community based in the US. The way they have reacted, without caring to know and understand the reality, simply proves that protecting their comfortable life in the US is more important than protecting their Punya Bhumi's honour and a fellow Indian's rights.
Instead of questioning the illegalities of the US treatment meted out to our diplomat, they are labelling her as a wrong-doer.
They have no answer why an Indian diplomat, representing the Indian sovereign State, should be subjected to such savage treatment.
If she has done anything wrong, nobody prevents the law from taking its course in the strictest possible manner back home, but an Indian can't be humiliated by a foreign government.
These NRIs cannot see how the Indian courts and media have upheld the supremacy of law even in the case of the high and mighty in recent times.
As I said earlier, all this will be recognised when we are happy and mighty. Our own sinew will take us to the desired goals and not a dependency on the US as I wrote in 2009.
Tarun Vijay is a Bharatiya Janata Party Member of the Rajya Sabha.
Photograph: Paresh Gandhi/India Abroad