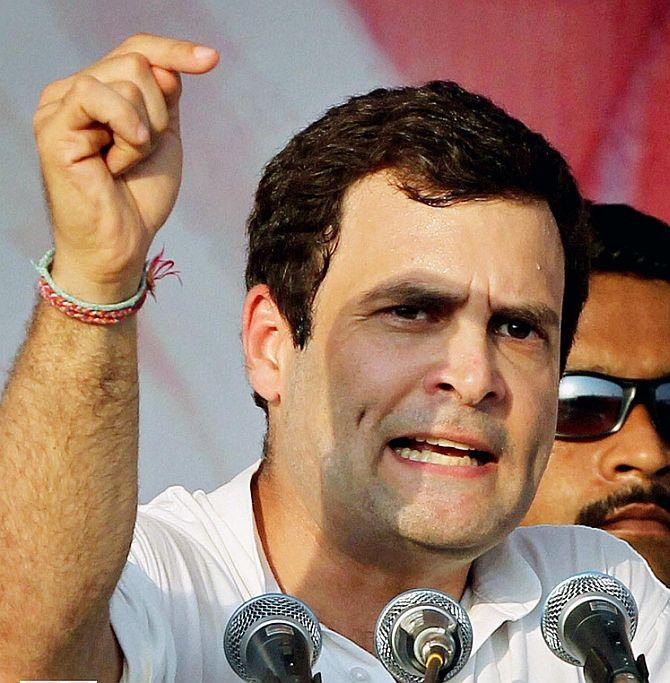 Following the debacle faced by the Congress party in the Assembly polls, the All India Congress Committee is headed for an organisational revamp, confirm senior Congress leaders. The reshuffle within the party, which could be a major one, as hinted by Congress Vice-President Rahul Gandhi, is likely after the winter session of Parliament concludes on December 20.
According to party insiders, the revamp will be aimed at serving the dual purposes of fixing accountability for the loss and bringing in a new leadership in the run-up to 2014 polls. The demoralised Congress unit desperately needs a new lease of life, if it has to give any competition to the reenergised Bharatiya Janata Party under Narendra Modi.
An AICC office bearer confessed, "Gandhi had made it amply clear that accountability needs to be fixed and the first in the line of fire could be the AICC state in-charges." Rahul Gandhi, while addressing a meeting of AICC in-charges of states that had gone to polls, had enquired what went wrong in each state, say insiders. He then asked each of them to submit written reports to him on the matter.
Among those whose roles could be rejigged are Delhi in-charge Shakeel Ahmed, Rajasthan in-charge Gurudas Kamath, Chattisgarh in-charge B K Hariprasad and Madhya Pradesh in-charge Mohan Prakash.
While some rationalise that these general secretaries had been appointed only in June this year and had less than six months to prepare for the assembly elections, seniors say, "Some action has to be taken to re-energise the party rank and file."
Also on the cards could be the reassigning of Uttar Pradesh general secretary Madhusudan Mistry's role. While Mistry, known to be a Rahul Gandhi confidant, had scoured the states for identifying suitable candidates and even succeeded to a large extent, he did not enjoy much traction in his role as the UP in-charge. He could be reassigned the overall organisational work of the party, thereby, not confining him to a single state.
Another Gandhi confidant, Bihar in-charge C P Joshi, could also be reassigned roles. Joshi's role as the campaign committee chief of Rajasthan, his home state, has come in for considerable criticism, as his longstanding enmity with Ashok Gehlot is well known and did not help the Congress's prospects in the state.
Congressmen are also avidly watching whether the stature of another Gandhi confidant, Digvijaya Singh within the organisation is diminished or not. Senior Congress leader Satyavrat Chaturvedi, also from Madhya Pradesh, had caused quite a storm when he openly accused the general secretary of being a "big conspirator" and blamed him for the party's defeat in Madhya Pradesh. There exists a deep divide within the state unit, with several camps owing allegiance to different leaders -- Jyotiraditya Scindia, Digvijaya Singh and Kamal Nath.
Apart from the AICC rejig, the party could also see the inclusion of some youth within the organisational set-up, something Rahul Gandhi had spoken about after the loss. "A lesson learnt from the Aam Aadmi Party," he had said.
Young Congress leaders who could see their stature grow include Ashok Tanwar and Meenakshi Natarajan. Tanwar is a youth Congress leader and a Dalit, while Natarajan is a Congress MP known for her hold on the grass roots.
How far these changes would be effective in re-energising the party and make it a battle-ready unit in time for the 2014 polls is questionable, but what most Congressmen speak around in hushed tones is the need to simultaneously rejig Rahul Gandhi's close coterie -- young guns who draw up electoral plans with little experience on the ground.
"If at all the Congress has to seriously set its house in order, the changes cannot be merely cosmetic but thorough," said a senior Congress leader.