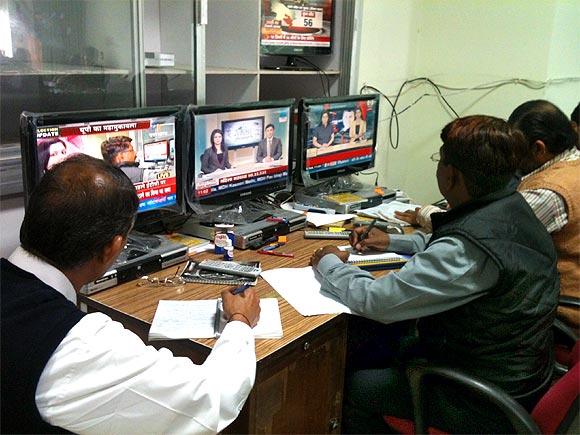 The Bharatiya Janata Party on Monday filed a complaint with the Election Commission against opposition Congress, accusing it of levelling "baseless allegations" against it without evidence.
"I don't know how they (Congress) have come out with a figure of Rs 1.46 lakh crore scam against BJP government in the state....may be they have arrived at the figure by the scams like 1.76 and 1.86 lakh crore (2G and coal scams) and therefore reached at 1.46 lakh crore," Chief Minister Shivraj Singh Chouhan said.
He was talking to mediapersons after party leaders submitted a complaint against Congress to State's Chief Electoral Officer Jaideep Govind.
Party leaders including Bhopal Member of Parliament Kailash Joshi, state BJP hief Narendra Singh Tomar, national vice president Prabhat Jha and the state election campaign committee chairman, Anil Dave, apart from Chouhan, met the chief electoral officer.
"It appears that as the polls are nearing, the Congress, whose defeat is certain, has lost its cool and started leveling baseless allegations against me and my cabinet colleagues," the chief minister said.
Chouhan said BJP has requested the EC to take cognisance of its complaint as allegations levelled by Congress are "misleading". The BJP has sought appropriate action against Congress leaders, he said.
In the ongoing slanging match between the Congress and the BJP, both trying to outmanoeuvre each other ahead of November 25 assembly polls, the opposition party on Sunday released a "charge sheet" against the BJP charging it of indulging in Rs 1.46 lakh crore scam in the state.
Earlier in the day, the Congress complained to President Pranab Mukherjee against BJP's Madhya Pradesh unit for using a photograph showing the army, navy and the air force chiefs jointly paying homage to coffins of armymen in an advertisement issued in local dailies on November 9.