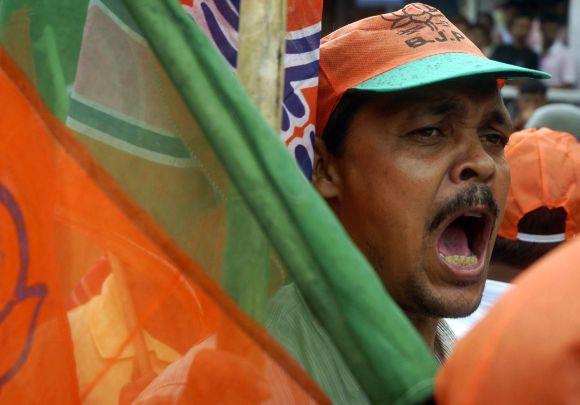 With assembly polls in Madhya Pradesh nearing, the Bharatiya Janata Party, which has been expressing confidence of winning for the third consecutive term, is facing dissidence over ticket distribution to some sitting members of Legislative Assembly, party sources said.
BJP workers from Piparia, Vidisha, Narsinghgarh, Bhander, Karera, Tarana, Pananagar, Picchore, Shamsabad, Khategaon, Mandhata and Seoni Malwa have staged protests demanding that party tickets be denied to some sitting MLAs, the sources said.
Besides staging protests at the state BJP headquarters, the party workers recently voiced their protest before Chief Minister Shivraj Singh Chouhan at a number of places during his ongoing Janashirwad yatra, by carrying placards and raising slogans against the sitting MLAs, they said.
BJP workers from Seoni Malwa have demanded replacement of sitting MLA and forest minister Sartaj Singh while party men from Minister of State for Tourism Brajendra Pratap Singh's Pavai seat staged a protest when senior BJP leaders were holding a state-level meeting at a local college last month.
Party workers from Narsinghgarh seat carrying placards such as "Mohan Sharma (sitting MLA) hatao Narsinghgarh Bachao" and "Chehra Badlega to Kamal Khilega" among others were seen a few days back. Later, Sharma's supporters also gathered in strength to counter those opposing his candidature.
Taking the issue of dissidence seriously, state BJP president Narendra Singh Tomar removed two divisional units' presidents in Panna district on October 9 and appointed new faces in their place, the sources said.
Reports are also doing rounds of differences between former Union minister and Indore MP c and state industries minister Kailash Vijaywargiya, with both not attending each other's programmes.
While Vijaywargiya did not attend BJP MLA Sudarshan Gupta's (a Mahajan supporter) 'Chunri yatra' in Indore, Sumitra Mahajan was conspicuous by her absence during a recent programme of party's women wing organised by Vijaywargiya camp at Mhow (his Assembly seat), which was addressed by Leader of Opposition in Lok Sabha, Sushma Swaraj.
When the issue of infighting was raised before party's national spokesman Prakash Javadekar yesterday, he said, "The BJP is a democratic party where everyone has a right to air his views. Once the party tickets are distributed, everything would be normal."