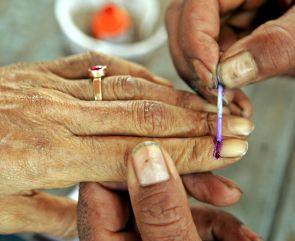 With less than a month to go for the assembly polls in Madhya Pradesh, both the ruling Bharatiya Janata Party and the opposition Congress have exuded confidence of winning the elections.
"There is no doubt that the BJP will win next month's Assembly elections," BJP Vice President Prabhat Jha said.
"The Congress is no where in the picture and is heading for a definite defeat, while the BJP is moving fast in the direction of a certain win," claimed Jha, the former president of the state party unit.
However, the Congress does not subscribe to the views of its main rival party as Leader of opposition in state assembly, Ajay Singh is equally confident of his party's win in the November 25 assembly elections.
Confident of his party's win, Ajay had recently told reporters that "the Congress will win 136 out of the total of 230 seats in the state assembly."
The BJP's hopes of a victory rest on what it claims to be the massive development undertaken in the state ever since it came to power in 2003
On the other hand, the Congress is not impressed with the tall claims of the saffron party and their leaders say that Chief Minister Shivraj Singh Chouhan did nothing but made announcements most which did not translate into reality.
The Congress has also alleged that there is poor law and order situation, higher atrocities against women, concerning level of malnutrition and to top it all rampant corruption in the state.
Before December 2003, Madhya Pradesh was thought of as a 'Congress state' where no non-Congress government had ever completed five-year term in office. But, the scenario changed after the BJP's win in 2003 with the party now nearing completion of two consecutive full terms in the state.