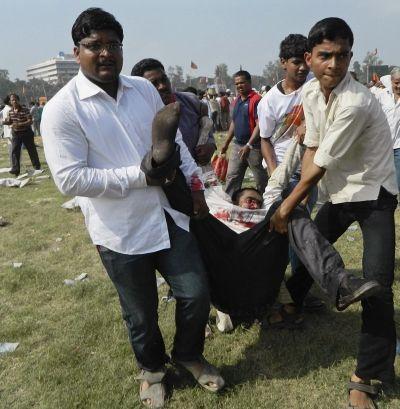 Bharatiya Janata Party's prime ministerial candidate Narendra Modi will visit Bihar on November 2 to meet the kin of the six people killed in Patna ahead of his Sunday rally.

Modi will arrive in Patna by a special helicopter and visit families of serial blast victims in different districts and express his condolence, former Bihar deputy chief Minister Sushil Kumar Modi.
"Nitish Kumar didn't pay tribute to the people who died in the blasts in his speech. This shows his insensitivity," said he added slamming the Bihar CM.

The BJP has blamed Nitish of "gross negligence" alleging that the Bihar government had received an alert about a possible threat to Modi.
"Yes, Modi is coming again to meet families of those who lost their dear ones in serial blasts and those injured," said Griraj Singh, a former Bihar minister, considered a vocal supporter of Modi's Hinduvta politics.

According to sources in BJP circles, Sushil Kumar Modi has contacted the Gujarat CM and requested him to visit Bihar to meet family members of the victims of the blasts and injured. "Narendra Modi accepted his request," a BJP leader added.

With inputs from agencies

Image: 83 people were injured in the serial blasts in Patna

Photograph: Reuters