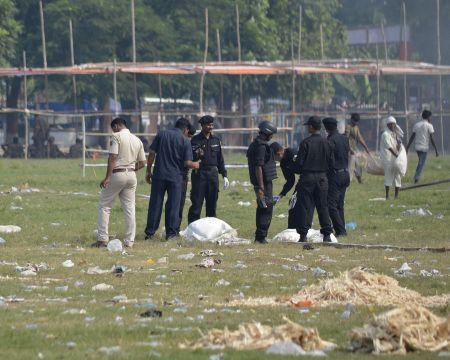 Bihar police on Monday denied that there was a specific intelligence alert by central agencies about terror threat to Bharatiya Janata Party's 'Hunkar Rally' in Patna and its prime ministerial candidate Narendra Modi who addressed it.
"There was no specific intelligence input about terror threat to BJP's Hunkar Rally yesterday and Narendra Modi in particular during his Bihar visit," Additional Director General of Police (ADG), Headquarters, Ravindra Kumar told reporters.
The media was briefed by Chief Minister Nitish Kumar on Sunday about lack of intelligence inputs for the BJP rally and Modi in particular during his Bihar visit, he said, adding there has been no change in the state government's stand.
"It (intelligence input) deserves no further clarification," Kumar said.
He refused to comment on questions on the role of Indian Mujahideen operatives or its modules in carrying out serial blasts at the rally venue at Gandhi Maidan and surrounding areas to coincide with Hunkar Rally.
Investigation is on and the details cannot be disclosed right now, the ADG said, adding the state police and NIA were jointly carrying out the probe, which is "on the right track".
The ADG called the press conference to categorically deny that there was a purported confirmation by a senior NIA official that Bihar police had inadvertently destroyed material evidences related to the blasts while defusing a bomb at Gandhi Maidan.
An NIA official of IG rank has categorically denied having given any sound byte to the media about destruction of material evidences while defusing a bomb after Bihar DGP spoke to top officials of the agency to confirm it, he said.
"No NIA officer has spoken to the media about destruction of evidence while defusing a bomb by the bomb disposal squad of Bihar police," he added.
Image: NSG commandos inspect the site of a bomb blast in Patna's Gandhi Maidan on Sunday
Photograph: Krishna Murai Kishan/Reuters