Seven explosions that rocked Patna on Sunday raises serious questions about security arrangements made ahead of Narendra Modi's rally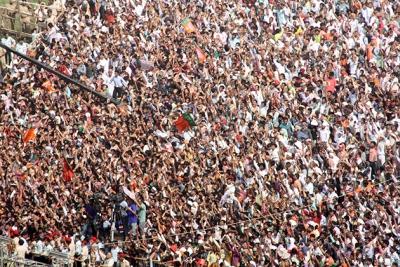 The serial blasts at Patna, which left six people dead on Sunday, paints an extremely poor picture of security arrangements in the state on day a when Bharartiya Janata Party's prime ministerial candidate addressed a massive rally.

Investigations so far reveal that planting the bombs was a cakewalk for plotters. One of the seven bombs that went off on Sunday was planted exactly 150 metres away from Gandhi maidan, Hunkar where Modi held a rally.
All the bombs were attached to timers, but were not controlled by remote controls, said sources adding that this was just preliminary information, which was gathered only hours after the blasts.
The bombs were smuggled into Patna on Saturday and planted in the wee hours on Sunday. This was because security was lapse before dawn, said sources. The blasts were timed to ensure that explosions rocked the city ahead of Modi's rally.
The Bihar police, who received an early signal, when the first bomb went off at the Patna railway station were however unable to curtail the following six explosions that occurred over a period of two hours.
According to sources, the bombs were assembled by a professional but were low intensity in nature. Officials from the Forensic Science Laboratory said that traces of ammonium nitrate, sharpnel were recovered from the site of the explosions along with a clock used as a timer.
Meanwhile, Intelligence Bureau officials said that there was a general advisory put out ahead of Modi's rally. This is done before every rally that the Gujarat chief minister addresses since the threat perception is very high. The police need to take care of security and with this attack it is clear that security was dismal, the IB pointed out.

Image: Lakhs of supporters of Narendra Modi gathered at Gandhi maidan, in Hunkar, Patna despite the blasts

Photograph: narendramodi.in