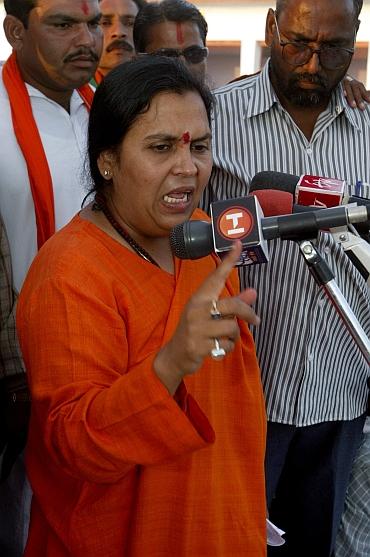 Notwithstanding Bharatiya Janata Party's assertion there will be no witch-hunt if it comes to power, Uma Bharti has said that Sonia Gandhi's son-in-law Robert Vadra will be in jail if the National Democratic Alliance comes to power. Bharti also alleged that Vadra had made money by breaking all norms.
"Just because he is the son-in-law of Sonia Gandhi, all the Congress-ruled state governments are afraid of him. Union ministers were also under pressure from him. He has made money by breaking all the norms," she said on Sunday night.
"Although my party will get annoyed with me, when the power will be in my hand, I will send jamaibabu (son-in-law) to jail," Bharti said.
This is the second time this month that Bharti has made a similar statement. Bharti had alleged last week that Vadra has been involved in 'several falsehoods' and if the BJP comes to power at the Centre he 'would go jail'. Modi has said recently that there will be no witch-hunt if the BJP comes to power. "The main focus of the BJP-led government will be to fulfil promises it has made to people and it will work with a positive attitude. It will not be vindictive towards anyone. I have paid the price for the past 12 years due to the vindictiveness of others," Modi had said.