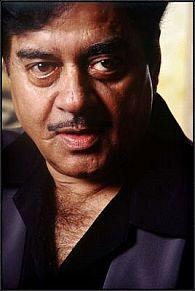 Pushed to the backfoot by the controversial remarks of its MP Shatrughan Sinha, Bharatiya Janata Party on Wednesday compared him with Congress general secretary Digvijaya Singh saying it is best to ignore such leaders.
Asked about Sinha's comments that Bihar Chief Minister Nitish Kumar, whose party Janata Dal-United has walked out of the NDA, would make a good prime minister, BJP leader Uma Bharti said, "The biggest punishment for people like Digvijaya Singh and Shatrughan Sinha is to ignore their comments, to not give them any importance."
"If they are ignored they shut up on their own," Bharti said, adding that ignoring them also defeats their designs.
Bharti, who is a BJP vice president, said no significance should be attached to what such leaders say.
"We do not give any importance to Sinha's praise or his criticism. He has shot so many times. The disciplinary committee of the party will take a call," Bharti said.
BJP spokesperson Shahnawaz Hussain maintained that party leaders should speak on the party forum and not voice their opinions outside. Only those authorised to speak should do so, he said.
"Every worker of the party sees prime minister potential in his leader. I can say with confidence that the next prime minister will be from the party to which Shatrughan Sinha belongs today and will unfurl the tricolour at Red Fort," Hussain said.
On Nitish Kumar being PM-material, he said only a party that can cross the 272 mark with its allies can form a government and at present BJP is the only party that seems to be in a position to attain this.
Bharti maintained that relations with JD-U may be strained today but "one cannot strangle those whom one was embracing for the last 17 years".
Image: Shatrughan Sinha