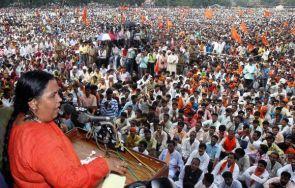 Congress on Thursday sought to embarrass BJP by releasing a three-year-old video in which senior party leader Uma Bharti has purportedly described Narendra Modi as an agent of destruction and dismissed his development claims of Gujarat as a "sham".
BJP hit back at Congress saying the video release reflected the ruling party's "desperation" and constituted its "last-ditch effort to save the first family" of Congress.
In the video CD, Bharti, who was then heading Bharatiya Janshakti Party after parting ways with BJP, says she never saw "Hindus so frightened as in Gujarat" and that "Gujarat has become a fear stricken state".
The video CD, which Congress spokesperson Abhishek Singhvi admitted was of a period when Bharti was not in BJP, shows the firebrand leader debunking the development claims of the Gujarat chief minister as well his Hindutva pitch.
"I know him since 1973... He is not a Vikas Purush but a Vinash Purush. His claim of GDP growth and the uplift of people from the BPL to APL category is fake...In the last 5 years, Gujarat became a bigger debter. Gujarat got neither Ram nor roti. It should be freed from the Vinash Purush.
..."It is the media which has made Modi so big, inflated the balloon", Bharti said.
Singhvi said while it is true Bharti was not in BJP, when she said this the fact also remains that she was "not saying these things in the middle of an election speech" and hence there has to be some truth in what a senior leader like her says.
"If somebody does not make such remarks during election days, it means there is more truth in that... She has not rejected so far what she had said. These comments on BJP's prime ministerial candidate were made by a senior leader like Bharti," Singhvi said.
Asked why the party released this CD bang in the middle of the election, Singvi said it does show that "there are thousands of such persons in BJP who consider him a dictator, a Vinash Purush and his claims about the development of Gujarat are fake."
BJP spokesperson Meenakshi Lekhi said the release of the video shows the "bankruptcy" of Congress which has "stooped low".
She said it can also produce "hundreds" of videos of Congress leaders who had left the party and said many things and were later re-inducted into the party and given plum posts.
"Desperate times have desperate measures. Congress's desperation is writ large....Congress's dependence on 3-4 year old videos shows that this is the last-ditch effort by the party to save the first family of Congress," Lekhi said.
Image: Senior BJP leader Uma Bharti