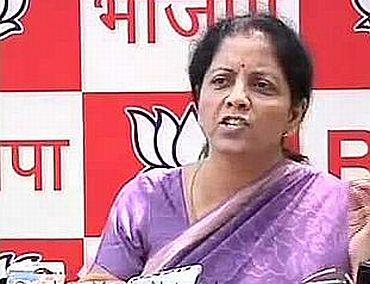 Questioning the "silence" of Sonia Gandhi and Rahul Gandhi over allegations involving Robert Vadra, the Bharatiya Janata Party on Monday wondered if the internal politics of the Congress does not allow them to speak about them or "defend" Vadra.
"There can be a sister or daughter coming to defence but the mother-in-law and brother-in-law is not there to defend. Neither it is a family matter nor just another case of corruption," BJP spokesperson Nirmala Sitharaman said, rejecting Priyanka Gandhi's contention over the isse.
Priyanka does not hold any office in Congress and the Bharatiya Janata Party has demanded that the ruling party leadership clarify on the controversial land deals involving Vadra. Taking a dig at the first family of the ruling party, she said, "The internal politics of Congress does not allow (Cong) president and vice-president to speak about or defend..."
She said, "There are numerous issues on the matter on which we have no response from Sonia and Rahul". Their answers are important, she said, because the deals happened in the then Congress-ruled states of Rajstahan and Haryana.
"The BJP will persist because it's a massive scandal which has done injustice to the people in Rajasthan and Haryana. Truth has to come out," Sitharaman said.
The BJP had on Sunday released a eight-minute video documentary on Vadra's alleged land deals, prompting an angry reaction from Priyanka who said she is not going to be intimidated by such "lies" and will continue to speak against its "destructive" politics.
The BJP, Sitharaman said, has given "point by point and comprehensive" replies on issues raised by the Congress and others. Asked about the Trinamool Congress' strong reaction to BJP Modi's criticism of its leader and West Bengal Chief Minister Mamata Banerjee, she said the TMC was "rattled beyond its comprehension" over the response to BJP in the state.1
"They did not expect their fortress shaken up," she said.
Special Coverage: Election 2014