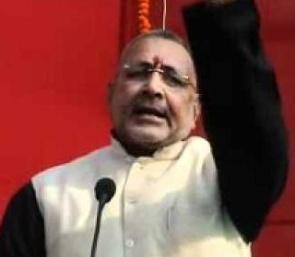 Voicing its disapproval, the Bharatiya Janata Party on Sunday ticked off its Bihar leader Giriraj Singh for his 'back Narendra Modi or go to Pakistan' remark even as Congress and the Janata Dal-United complained to Election Commission and demanded criminal action against him.
Distancing itself from Singh's controversial remark, the BJP sought to undo the damage with president Rajnath Singh saying the party believes in the politics of "justice and humanity" and taking everybody along.
Party sources said Giriraj has been conveyed the party's displeasure over his statement and asked to refrain from stoking any further row. Singh had said in an election meeting in Jharkhand on Saturday that those opposing Modi will have to go to Pakistan after elections, leaving the BJP red-faced and inviting sharp criticism from rival parties who said his comments were aimed at Muslims.
In an apparent disapproval of the former Bihar minister's comments, Rajnath said, "The BJP believes in the politics of justice and humanity and taking everybody along".
Senior Bihar BJP leader Sushil Kumar Modi termed the statement "irresponsible" and said the party does not approve of it. "BJP doesn't approve of irresponsible statement given by Giriraj Singh," he tweeted. BJP spokesperson Nirmala Sitharaman said the party distances itself with his statement and Modi's tweet reflects its view.
BJP sources admitted that Giriraj's comments have given other poliitcal parties a handle to go after it even as it has built its campaign around the developmental agenda. The Congress and the JD-U approached the Election Commission seeking criminal proceedings against Singh over his remarks. In a letter to the EC, AICC secretary K C Mittal claimed that the statement by Singh "had been calculatedly made, not only to exploit religious and communal feelings during operation of Model Code of Conduct but also to provoke public disorder."
The Congress demanded that "exemplary" punishment should be imparted in this case and also sought action against the BJP. "You are kindly requested to get FIR registered against him (Singh). He should be arrested along with other conspirators on the dais like Nitin Gadkari (former president BJP) immediately. Action may also be taken against the BJP for de-recognition as a Political Party and/or any other action the Commission feels appropriate may also be taken against them," Mittal said in the complaint.
JD-U secretary general K C Tyagi also shot off a letter to the EC demanding FIRs be registered against Singh. The nationalist Congress Party condemned Singh's remark as "anti-constitutional".
"This statement violates the poll code, the Indian Penal Code and the Constitution," Majeed Memon, Rajya Sabha member and NCP secretary, said in Mumbai.